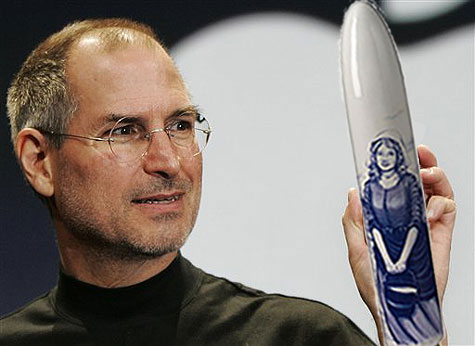 Utilizing groundbreaking iTechnology, you too can get in touch with your inner narcissist with technological options that you don't really need. The iDildo is now available in several sizes, wherever iProducts are sold! The iDildo comes with several adjustable settings: Slow and Bored (an ideal mode for chronic time wasters), Medium Rare, and Fast and Frenetic. Optional audio settings provide you with an experience that you will never forget, better than a Sybian. Our EULA will ensure that the only orgasms you are legally entitled to experience are those effected by the iDildo, which have been perfected in our iLabs after our boys went through $200 million in R&D money. (Should you snag a lover in defiance of our terms, our attorneys will prosecute.)
We control the horizontal. And it's all for your benefit!
Order a first-generation iDildo today for only $799! Don't worry. We'll work out the kinks in the next eighteen months, where the iDildo will plummet a mere $75 in price.