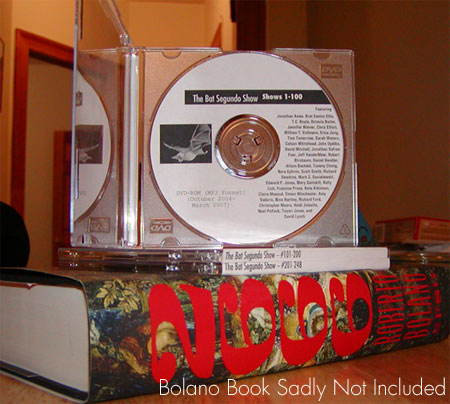 We've received a few requests from listeners asking us how they can get DVD-ROMs of the show. And since Christmas shopping has started, and some of you out there may be on the lookout for a literary stocking stuffer, we've decided to begin offering DVD-ROMs of the first 250 shows of The Bat Segundo Show at the very affordable price of $50. (Shows #249 and #250 will be coming online very soon.) For just 20 cents per episode, you'll be able to experience more than 200 hours of the oddest cultural conversations that can be found on the Internet.
This three DVD set features all programs produced from October 2004 to the present day.
Disc One: Includes interviews with Jonathan Ames, Bret Easton Ellis, T.C. Boyle, Octavia Butler, Jennifer Weiner, Chris Elliott, William T. Vollmann, Erica Jong, Tom Tomorrow, Sarah Waters, Colson Whitehead, John Updike, David Mitchell, Jonathan Safran Foer, Jeff VanderMeer, Robert Birnbaum, Daniel Handler, Alison Bechdel, Tommy Chong, Nora Ephron, Scott Smith, Richard Dawkins, Mark Z. Danielewski, Edward P. Jones, Mary Gaitskill, Kelly Link, Francine Prose, Kate Atkinson, Claire Messud, Simon Winchester, Amy Sedaris, Nina Hartley, Richard Ford, Christopher Moore, Heidi Julavits, Neal Pollack, Tayari Jones, and David Lynch.
Disc Two: Includes interviews with Martin Amis, Ron Jeremy, China Mieville, Tao Lin, Lionel Shriver, A.M. Homes, Scarlett Thomas, Berkeley Breathed, Gary Shteyngart, Richard Flanagan, Katie Roiphe, William Gibson, Marianne Wiggins, Gabe Kaplan, Rupert Thomson, George Saunders, Naomi Klein, Chimamanda Adichie, Steven Pinker, Naomi Wolf, James Lipton, Oliver Sacks, Richard Russo, Tom McCarthy, Andrea Barrett, Will Self, Stewart O'Nan, David Rakoff, Sue Miller, Charles Burns, Steve Erickson, Chip Kidd, Bill Plympton, Michio Kaku, Jennifer Weiner, Richard Price, and Nicholson Baker.
Disc Three: Includes interviews with Mark Sarvas, Errol Morris, Sarah Hall, David Hajdu, Tobias Wolff, Sloane Crosley, Cynthia Ozick, Ed Park, Fiona Maazel, Steven Greenhouse, Ralph Bakshi, Mort Walker, Rachel Shukert, Andre Dubus III, Thomas Disch, Grandmaster Flash, Nam Le, Sen. Mike Gravel, Ethan Canin, Jenny Davidson, Paul Auster, Brent Spiner, Bonnie Tyler, Mike Leigh, Marilynne Robinson, Charlie Kaufman, Neal Stephenson, and David Rees.
Episodes will still be available for free download. But with the purchase of this three DVD set, you'll be helping us tremendously to continue producing the show, and you'll save yourself a considerable amount of time downloading them all at home. Particularly if you have dial-up.
The price includes shipping. Please note that all shipments are being sent by FedEx Express Saver to ensure a reasonable delivery time that we can track, and, due to costs, we are currently limiting delivery to the United States. If, however, you're based outside the States, email me and we'll work something out.
If there's enough interest, then we'll be unloading some additional merchandise, including iPods that have the shows already loaded. But for now, we wanted to offer an affordable way for you to get the shows all in one burst. And if you act swiftly, and you foresee a good deal of commuting time for your Thanksgiving holiday, then we can get the DVDs to you before the turkey is carved.