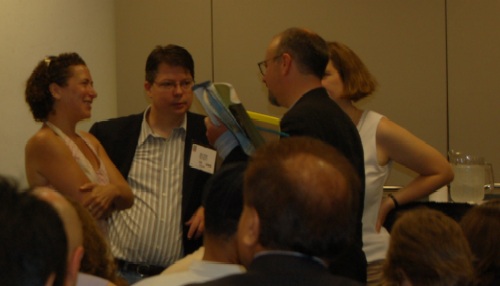 Panel: Blogs: Is Their Growing Influence a Tastemakers Dilemma? The Crossover Hurdle (June 1, 2007)
Moderator: Bud Parr
Participants: James Marcus, Lizzie Skurnick, Dwight Garner, Anne Fernald
"I'm one of the blog people," said Bud Parr, the moderator of the BEA blogging panel. But he wasn't the only one. They were other blog people, among them a few beautiful, in the audience. They were there on the panel: three other bloggers, in fact. Dwight Garner was not a blogger, per se, but it's been argued by Ron Hogan (another blogger, natch) that Garner's Inside the List column certainly qualifies as blog-like in feel and timbre. I wasn't certain about the exact purpose of this year's BEA blogging panel, but it was more effectively organized than previous efforts.
The microphones malfunctioned, thanks to the centrally controlled audio setup in Javits. This left all panelists gravitating to the central lectern to speak to the crowd. The feel resembled a twelve-step program. I kept looking around for the bad coffee and the stale donuts.
What I did observe were bloggers who were as professional as professionals and in many ways less abstract in their positions than their print counterparts.
NYTBR Deputy Editor Dwight Garner, who was amicable but who didn't have the smarts to attribute a very easy quote from Samuel Johnson, openly pondered how George Orwell and Lionel Trilling would have approached the blog format, had they made their marks decades earlier. Garner confessed that every Monday morning, the NYTBR staff gathered around to see how the blogosphere reacted. This criticism of the critics was, in Garner's view, "an incredibly healthy thing," but Garner felt that some of the charges were unfair. Alas, he didn't offer specific examples of this "heckling and name calling." The print people almost always never do.
Lizzie Skurnick, who apologized for not preparing remarks, stated that she had started out as a blogger and defected to print. She felt "more sanguine about the future of book reviewing," in large part because she had often heard from authors. She urged the audience to "embrace the blog world and the new criticism," pointing out that there is no critic school and that the two professions are closer than people acknowledge.
The high point, apparently unnoticed in Michael Rogers' lazy and incompetent reporting, was Anne Fernald's thoughtful presentation of what a blog could be, which followed Lizzie's remarks. Anne observed that early literary criticism had originated from English aristocrats – all men — who believed that only they could write. Women turned to bestsellers and eventually criticism, roughly about when the comparison between writing and prostitution was introduced. Virginia Woolf was among these new women critics and she was paid double the usual rate for the Times Literary Supplement. Anne also observed that no reviewer, whether print or online, is immune from the accusation that their opinion can be swayed. According to Anne, blogging has created a level playing field and this development, like Woolf before, has created a level playing field.
Anne offered six reasons for why blogging is beneficial and different from its print incarnation: (1) bloggers can cultivate a niche audience; (2) passionate readers search for new voices and blogging provides immediate access to these new voices; (3) there's the possibility of a tipping point effect through this new channel; (4) blogging offers a new way of grouping novels together; (5) blogs are notebooks with feedback; and (6) blogging builds community. Because of these clear advantages, Anne asked why bloggers and newspapers weren't working together.
James Marcus, speaking with a comic glint, also bemoaned the "shots fired back and forth" and the "sideshow" of the recent print vs. bloggers debate. He observed quite rightly that book reviewers didn't exist as a Masonic order, and that he found this form of elitism unattractive. Book reviewing was first and foremost about talent.
After these five lengthy introductions, there was some discussion. When the subject of money was raised, Garner observed, "Money doesn't drive a writer" and it was generally agreed that the stakes were too small to warrant much of an ethical breach. Lizzie observed that she had made a few thousand from The Old Hag, but she felt less responsibility to her advertisers.
The blog lines, however, were fuzzier than the print ones, because Lizzie was friends with other publicists and authors. She also called for running more excerpts. Anne smartly observed that the ethical lines may very well have been fuzzier during Virginia Woolf's time. After all, what with Woolf writing a review of her brother-in-law's book and being published on her husband's press, the circumstances were pretty incestuous.
I was disappointed to see many minutes wasted on the ridiculous question of whether blogs are parasitic. Not only are blogs constantly generating fresh content, but one might argue that a book review, by way of leeching upon a book's pages, and journalism, by way of sucking upon real world events, are equally parasitic.
Bud remarked after this regrettable detour into the obvious that 40-50% of blog readers came from Google searches. I'm not sure if he was citing his own stats or referring to another statistic, but I will investigate this. He also noted that one of the reasons Maud Newton was such a success was because it entailed "a great combination of filter and interjecting contextuality."
There was more on the fracas between bloggers and print reviewers. But I'll save my protracted observations on this subject when I write up the next panel, where I will also detail the convulsive fear and passive-aggressive belligerence that John Freeman expressed to me when I attempted a peace offering only hours later. Nobody sets a diplomatic precedent like a president.
More panel reports to come.