Even on scant sleep, I still had considerably more stamina on Friday than I did on Sunday. I designated Friday as the last day I would be attending panels.
The first of two Friday panels I attended was the unfortunately named Syndicating Litblog Book Reviews panel, which featured Sarah Weinman and served as a congregation point for the many litbloggers running around the floor.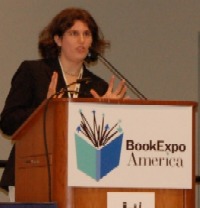 Sarah offered a brief background on how she got involved in the litblogging scene, noting that it grew out of her procrastinating on her master's thesis. She then expatiated on what blogs offer that print media does not: freedom, space and voice. Litblogs have managed to take advantage of the shrinking review space in newspapers, albeit not at the expense of courting controversy (e.g., L'Affair Bob Hoover). Apparently, the notorious and silly Bob Hoover (see May 21, 2006 entry; permalink unavailable) may have been in attendance. (And had I known Hoover was going to be there, I would have educated the man myself and strongly urged him to loosen his tie.)
Sarah then went into the question of how publicists could reach litbloggers, a subject that was taken up with considerable amusement later (of which more anon) and singled Freakanomics as a book outside of her interest that she had read and lauded. She suggested that publishers could do things for blogs that they blogs did for publishers. Bud Parr's Metaxucafe was cited as an example.
But the subject soon steered well off the path of syndication. At this point, it soon became hilariously apparent that, with a few exceptions, the only people attending the panel were litbloggers and publicists. And there then came a conversational free-for-all from the floor in which business cards were exchanged and concepts were elucidated by both parties.
One of the very helpful ideas that came up was for a master list of addresses for the publicists, perhaps with detailed interests that spell out what any given litblogger might be interested in. After all, even when the publicist carefully targets a litblogger's email, there is often no response from the litblogger's end. I found myself walking away from the panel with some sympathy for the publicists. After all, who has the time to wade through all of the many litblogs but the intensely febrile? I missed Kevin Smokler's RSS feed panel (and would have attended, had I known Smokler was going to be there) and have only an inkling of what transpired, but educating the publishing industry about the technology behind how we operate is certainly a start.
One of the ideas tossed around at BEA in various conversations (which originated from Carolyn Kellogg) was a litblogger's conference, a concept that, coincidentally enough, was also recently taken up by Erin. In one of his BEA wrap-ups, C. Max Magee has suggested that "the relationship between litbloggers and the publishing industry is ill-defined." And I happen to agree with him. Since litbloggers often operate, for the most part, off the corporate grid and are not necessarily driven by profit, perhaps a litblog conference, ideally something that prioritizes people above marketing terms, might be a conduit to aid publishers, litbloggers, publicists, advertisers and any interested parties in figuring out just what we're all doing here.
One major difference I observed in this year's BEA (compared to last year) is that litblogs are no longer a mystery to publishers. They know who we are. They know that we are making some dent in awareness of books and, perhaps inadvertently, sales. And in Coffee House's case, they're using the LBC win to profile their books on the floor. But we are operating very much outside the publishing industry and are decidedly more people-centric than dinero-centric. I'm not entirely certain that a BEA panel will help to smooth over the divide — in large part because questions concerning the inevitable monetization of litblogs (for those willing) remain largely unanswered and unstandardized, with varying degrees of acceptance and dissension.
Should the BEA decide to have another litblogging panel, I think a helpful one would involve "The Future of Litblogging: Business Models vs. Passion," getting two litbloggers who would never provide advertising with two litbloggers who have no problem featuring banners and the like on their site. (And I'd be happy to moderate.) Perhaps lively and respectful disagreement would allow the publishing industry to understand our motivations, comprehend that there are differing approaches to litblogs, and parse some of the underlying complexities. One thing's for sure: as a medium, the litblog isn't going away anytime soon.