One of the things I accomplished over the weekend was returning to bowling after a two-year absence.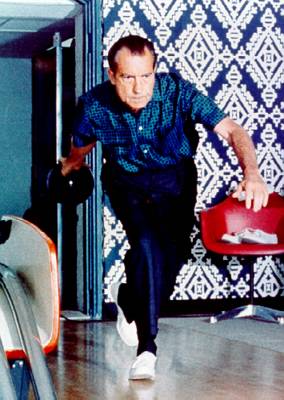 It wasn't easy. You see, I hadn't entirely come to terms with Japantown Bowl's demise.
In San Francisco, there seems to be an unspoken stigma against casual bowling. You'd be surprised at the paucity of bowling alleys in this town. Is it the City's purported sophistication that keeps out bowling? Is bowling somehow declasse? Back in November, when I made the list of red state things and blue state things, bowling never really quite fit. It seemed one of those things that cut across party lines. Whether you were a league player or an incompetent bowler drunk off your ass, the common goal of striking down ten pens was what united people. That and the squeals of teenage girls after a strike and the echoes of balls striking pins. Who can say no to this?
My hometown. That's who.
If you open a bowling alley in San Francisco, it's almost destined for conversion or desuetude. Before Ameoba on the Haight became Ameoba on the Haight, it was a bowling alley called Park Bowl. And the aforementioned Japantown Bowl, the last of the City's great bowling alleys, bit the dust a few years ago. This is really pathetic when you consider that even Manhattan has Bowlmor Lanes.
What's left these days? Yerba Buena Gardens, which has a small bowling alley and nifty Glow-in-the-Dark lighting, might satisfy in a pinch. But a real bowling alley needs to have at least twenty lanes and a few veteran bowlers dispensing advice while practicing lane courtesy. And Yerba Buena doesn't cut it. There's also Presidio Bowling Center, but it's as squeaky-clean and unsullied as Yerba Buena.
So I pretty much lost it when Japantown closed shop. If Yerba Buena was the best that my City could do, then, dammit, I would BOWL NO MORE!
The good news, however, is that a grand bowling experience can be had beyond Serramonte Lanes — just off the coast, no less, at Sea Bowl in Pacifica, a 32-lane affair with beach paintings stretching across the whole alley just above the pins. The people here are real bowlers. They mean business and they want you to bowl well too. You can hear the sounds of the Pacific right off the beach. One suspects that the bowlers who were forced to leave the City somehow ended up in Pacifica.
But if we are to bring back bowling to the Bay Area (real 20+ lane alley bowling!), Pacifica, with its mighty ocean winds and its cool climate, is a good place to start.