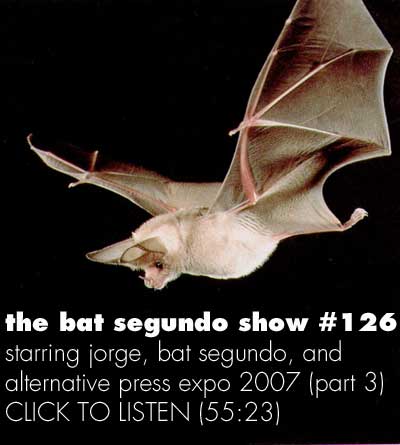 [This is the last of the three APE 2007 podcasts. All three podcasts will eventually be available on the main Segundo page. But for the moment, here are temporary links to Part One and Part Two]
CONDITION OF MR. SEGUNDO: Searching for surgical uses involving his tequila bottle.
GUESTS: Helen Parson, Ruben Fernandez, Bud Burgy, Mike Hampton, Suzanne Kleid, Shannon O'Leary, Jennifer Joseph, Brian Colma, an unqualified "lowly human," various representatives of Kaiju Big Battel, John Schuler and William Binderup, Jose Lopez, Liz Baillie, Bob Self, Richard Ruane and Tim Trosky, Mikhaela Reid, Stephanie McMillan, Matt Bors, Masheka Wood, Robert Steven Rhine and Hollie Stevens, Corwin Gibson, Matt Bernier, Mel Smith and Steve Oliff
SUBJECTS DISCUSSED: The nutritional qualities of flavored ghosts, the trouble with comic book names, telemarketing poets, penny aphorisms, a search for a mean-spirited fan who may live in Wisconsin, marital modeling and zombies, a comparative discussion between zombies and corpses, pet noir anthologies, conducting poetry discussion at a comic book convention, how to make cartoons more respectable, using aggression for control of the universe, how to exploit and make money out of kaiju monsters, getting people hooked on poop jokes, conflict that attracts people, character design for Batman and Teenage Mutant Ninja Turtles, working on secret projects for Google, how to riff on the sacrosanct world of Degrassi High, Gris Grimly, a pair of books by a pair of sisters, shy guys, moms and drugs, the distinct lack of attitude within Cartoonists with Attitude, love and anger, on having sharp opinions without being angry, the Reese's peanut butter cup concoction of girls and corpses, clown porn and Mensa, unexpected enthusiasms for the Orange County Sheriff, Nacho Libre vs. luche libre, Jack Black, trying to eat a hot dog and selling comics at the same time, excluding the important sexual elements of a classic myth, how Bob Burden is giving the Gumby crew ulcers, on Mel Smith being the Henry Kissinger of Gumby, and Paul Reubens and Gumby.
EXCERPT FROM SHOW:
Correspondent: You seem very pleasant for someone who has attitude.
Reid: We all!
Correspondent: And someone else speaks for you here.
Bors: Nah, I'm pleasant in person. I don't know. Uh I'm just chilling at a convention.
Reid: His strip is called Slut of Guantanamo Bay. He's not that pleasant!
Correspondent: But he's very pleasant about it right here.