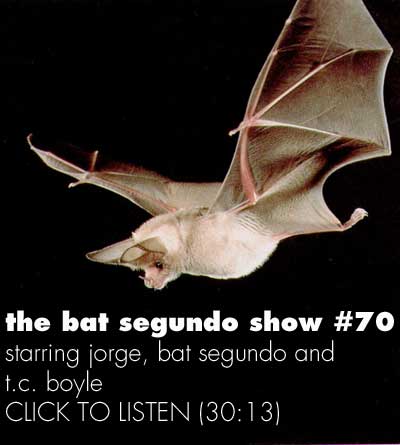 Author: T.C. Boyle
Condition of Mr. Segundo: Dubious of state lottery programs.
Subjects Discussed: Multiple genders, Lawrence Durrell, on whether Talk Talk is a thriller, Anthony Burgess' The Right to an Answer, Graham Greene, identity theft, Milton, paranoia, jail, Cassie Chadwick, biometrics, capitalist society, why Talk Talk is set in a contemporary setting, cell phones, strangers in New York, on T.C. Boyle's site being hacked, private conversations vs. public conversations, responding to critics, manipulative movie trailers, Amazon, harsh critics, the pitfalls of tennis, the competitive nature of writing, on reaching audiences, Boyle film adaptations, commercialism, Boyle's two existences, showing vs. telling, tattoos on women, fun in writing, egrets, the original appendix to Talk Talk, the 1980s band Talk Talk, and ASL.
© 2006, Edward Champion. All rights reserved.