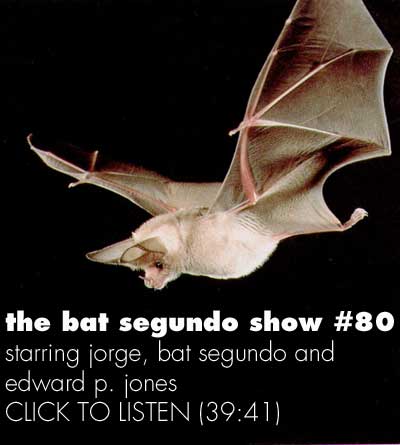 Author: Edward P. Jones
Condition of Mr. Segundo: Feeling oppressed by MySpace.
Subjects Discussed: Jones's instinct for precision, specifics, city streets, details within minor characters, family lineage within fiction, Squirrel Nuts, penny candy, handicapped characters, gifted students, avoiding recurrent motifs and repeating stories, characters who appear in Lost in the City and All Aunt Hagar's Children, selecting historical settings, Washington D.C. as magnetic nexus point, throwing the reader off guard, flash-forwards, mathematical metaphors, how Jones became an English major, double metaphors, having a writing philosophy, violence in fiction, crossword puzzles, making stories read like novels, miracles, and neighborhoods.
EXCERPT FROM SHOW:
JONES: If you have a portrait painted of your family and they're at the center of the portrait, there's no use having cartoonish figures in the background. What's in the background, what's set aside should be as rich in detail as the family in the foreground right there in the center of the portrait. And I suppose that's part of it. It's all a matter of trying to make the reader believe that what he or she is reading is real, actually happened — even though, of course, it all came out of my imagination.