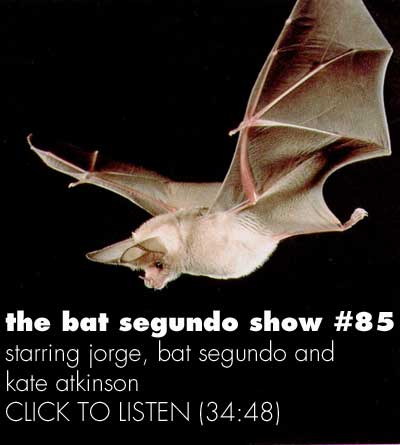 Author: Kate Atkinson
Condition of Mr. Segundo: Investigating turns of an altogether different sort.
Subjects Discussed: Narrative flow, the difficulty of writing the first 100 pages, perspective, good sentences, discovering the internal monologue, writing about inept men, narrative sadism, similarities between T.C. Boyle and Kate Atkinson, technological references in One Good Turn, "guys" to call on for research, Google vs. libraries, dialogue, the influence of reading while working on a novel, "romps," British prejudices against genre, the word "jolly," Case Histories vs. One Good Turn, empathy through the omniscient voice, being pigeonholed because of the Jackson Brodie books, Kate Atkinson's other voices, the exuberant voice, maintaining a sense of fun, a sense of order, theme vs. plot, morality within One Good Turn, and the Honda Man.
EXCERPT FROM SHOW:
Atkinson: You're working all day on words. Do you really want to then do words the rest of the time? What I would like to do when I'm not, when I'm really engaged with a book, is to just look at a tree really. But it tends to take the form of looking at television. I just want to look at something that's not words. Because that's what you're doing all day. I mean, I'm really glad I read most of world literature before the age of twenty-one. I would never have time for it now or have the inclination for it, I think. I did my reading when I had the space. And now I don't have that kind of space.