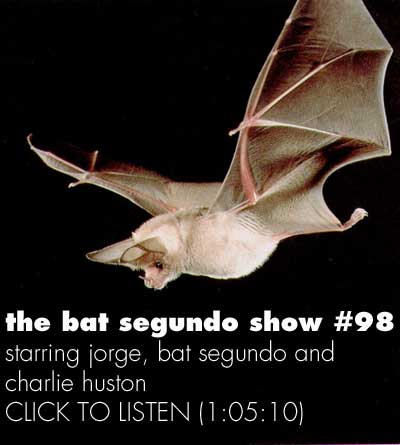 Author: Charlie Huston
Condition of Mr. Segundo: Contemplating the socialist qualities of the sun.
Subjects Discussed: Dialogue vs. description, the influence of acting upon fiction writing, Raymond Chandler, dashes vs. quotation marks, Huston house style, Cormac McCarthy, one-word-one-period dialogue, indicative gestures, drinking and smoking, setting the vampire rules, unintentionally ripping off Richard Matheson's I Am Legend, the beginnings of the Joe Pitt series, verisimilitude vs. heightened reality, the book reviewing climate, critical opposition to genre and series novels, Stephen King, parallels between Moon Knight and Joe Pitt, cruelty to animals, and getting New York details right while living in Los Angeles.
EXCERPT FROM SHOW:
Huston: When I was writing my first novel, Caught Stealing, I was writing it without any expectation or drive toward getting it published. It was while I was still an actor, but not employed. And I needed to stay busy creatively. And so I started writing something that I thought would be a short story, and it grew and grew and grew. But I wasn't thinking about anyone else reading it, let alone having it published. I didn't care about form. I didn't care about format. Which is why a lot of the style has evolved through the books.