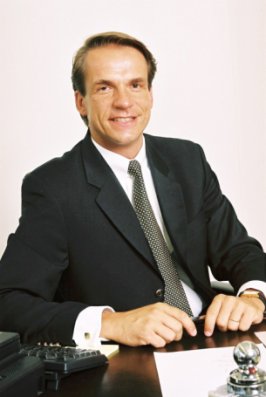 Peter Olson's surprise resignation as CEO has caused several to wonder what effect this will have on Random House. Publishing News reports that Markus Dohle (hereinafter referred to as "The New Guy") won't be hindering the present autonomy and independence of the imprint. The Observer's Leon Neyfakh pointed out a few days ago that the key modifier used in relation to The New Guy is "entrepreneurial." Also interesting is The New Guy's determination to strengthen the publisher's defenses against the "might of the retail chains."
One detects more than the faint whiff of Sturm und Drang. But while there may be a sense of panic in the air over whether this sudden decision may involve layoffs, nobody appears to be particularly clear on what "entrepreneurial" really means. Does it mean giving the Random House imprints full autonomy provided that there are more profitable blockbusters? Does it mean shifting the emphasis away from distinguished midlist titles to a company that prizes more profitable titles?
In a New York Times article, Bertelsmann chief executive Harmut Otrowski (hereinafter referred to as "The Big Cheese") said that The New Guy was chosen over a more traditional candidate because The Big Cheese wanted a fresh perspective. The New Guy, said The Big Cheese, "has shown he has been able to turn a mature business into a growing business."
Did longtime editor Marty Asher, who mysteriously stepped down only days before The New Guy was given the throne, know something we don't? Again, we have only modifiers to go by. By "growing," does The Big Cheese mean a more unpredictable business model that will yield greater profits in uncertain economic times? In drifting away from "mature" waters, does The Big Cheese have a frenetic Neutron Jack-style backup plan in mind?