It is all too easy to dismiss a Donald Trump voter as a mere xenophobic bigot or to assert that this flailing mass of supporters, which hangs upon the tyrant's every terrible word, is little more than a blank uneducated slate with which to imprint the most sinister hatreds and sordid hypocrisies seen from an outsider presidential candidate since George Wallace. There are certainly polls which suggest that the Trump base is overwhelmingly white, with little more than high school education. But when you leave a person for dead, cut adrift without resources in a callous American wasteland, and when your answer to his unsavory entreaties is to leave him out of your Weltanschauung or to block him on Twitter, do not be surprised if he turns to a demagogue in anger. Do not be astonished when he turns furious when there are no jobs and his life is discounted and he is very much afraid and his griefs, which can be reckoned with if caught early enough, transform into a hateful cancer. Do not be shocked when a tyrant comes along who grants the illusion of inclusiveness and who plays into a voter's fears with the most extraordinary and unthinkable statements imaginable. Because you, with your gluten-free meals and your yoga mats and your blinkered sunbeam privilege, were never there for him.
We have been here before with Ross Perot and the Tea Party and even John Anderson in 1980. But we have also been here with Occupy Wall Street and Ralph Nader and, presently on the Left, the promise of Bernie Sanders. Populism is an amorphous and intoxicating serpent, epitomized by the infamous 1829 inauguration of Andrew Jackson, in which a drunken mob stormed the White House shortly after this twisted Jeffersonian offshoot was sworn in as a "great" patriarchal protector, a throng that could only be coaxed from the inner sanctum by bowls of spiked punch stationed on the outside lawn. But like it or not, we must accept that the American people have been told repeatedly that their individual viewpoints matter, that an everyman's perspective is just as valid as that of a statesman, and that the playing field, even after nearly every study has demonstrated that income inequality is worse now than it was during the Gilded Age, is level. It is a distressing mirage, an insurmountable dream that even our most level-headed politicians continue to prop up. But who can blame anyone for wanting to believe in it? If we didn't have that promise, if we continued to accept doom and gloom and mass shootings as the new American normal, then we'd have no reason to participate in politics.
Trump understands all this. And he is willing to spout forth any prevarication if it will carry the public through the murk and into his manipulative hands. Trump has endured, despite his shocking proposal to block all Muslims from entering the United States, and has maintained a 20 point lead in the polls not so much because of his beliefs, but because no other politician, with the possible exception of Sanders, has sustained the image of a formidable leader who is well outside the tentacles of a broken establishment and who will fix every problem through the sheer force of his inflexible (if deeply problematic) will. That it has come down to some sordid and superficial yahoo who boasts of possessing "the world's greatest memory" speaks to the ravenous American hunger for something great.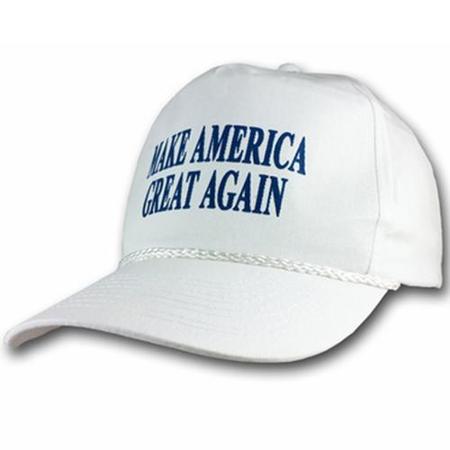 When populism has excelled in our nation, such as Franklin D. Roosevelt's Fireside Chats and his many personal visits to workers employed through the Civilian Conservation Corps or the WPA (even if this came with the double-edged sword of internment camps), it was established on an intimacy between leader and follower, but one in which the follower had some real sense that his views were being considered. This was a relatively benign relationship predicated on national pride, of a belief in America as a nation of greatness. And if we listen to why voters are gravitating towards Trump, it becomes very clear that all they want is someone, anyone, who is aware of their existence and who will do something about it. They want someone who will "make America great again" or to make "America the way we once were." The first sentiment is taken directly from a Trump supporter who is parroting the slogan on Trump's website, that is indeed purchasable as a baseball cap, and that is inherently no different from Obama's "Hope" campaign in 2008. And while it's tempting to view this notion of "greatness" as something that is a regressive throwback due the "way we once were" qualifier, what voters are really communicating is that they want to be part of something great, which need not be rooted in recycling the past but in ensuring that greatness, previously experienced, is a palpable quality of our future. The promise of hope and change is simply not enough anymore. The American people rightfully demand a leader who will create results, even if this ideal is completely at odds with the realities of political compromise and brokering deals.
It is clear that Trump cannot be stopped through reasonable denouncements or a rhetorical standoff or pundits repeatedly limning his lies. What's needed to sustain the American faith and reach the people is a voice that can speak stronger and with greater empathy and inclusion: a principled leader who won't leave a single person behind (including Muslims) and whose very power will deflate all the air out of Trump's balloon, exposing him for the hollow carnival act he really is. The Democrats have not had any presidential frontrunner willing to substantially include a voting bloc outside its centrist, middle-class demographic (that is, "working class," blue-collar, the unemployed, or the homeless) since Mario Cuomo's famous 1984 speech at the National Democratic Convention. This has been a serious mistake, especially given the nimble methods that Republicans have employed to scoop up this abandoned group of people. What made Cuomo's speech so stirring was not just its remarkable truth-telling, but Cuomo's insistence that he was not afraid to stand up to Reagan's myth of America as "a shining city on a hill." It was very much the principled outsider responding with a sense of history and a sense of honesty and a sense of profound need that would, in turn, create a great nation. Indeed, the word "great" is mentioned many times in Cuomo's speech: "on behalf of the great Empire state," "thank you for the great privilege," "Today our great Democratic party," "We would rather have laws written by the patron of this great city," "to occupy the highest state, in the greatest State, in the greatest nation," and, perhaps most importantly, "for love of this great nation."
I illustrate Cuomo's use of the word "great" to demonstrate that using "great" need not be a reductionist Faustian bargain or a capitulation to sloganeering if it is used reasonably. Cuomo believed, in ways that many Democrats have not since, that our nation was capable of being truly great. His sense of greatness was convincing not only because of the nimble way he weaved it into eloquent rhetoric, but because the modifier actually stands as a reliable measure for American opportunity. Stacked next to Cuomo, Trump's ideas about "great" are little more than cheap fizz skimming off the beer keg.
Anyone who wishes to defeat Trump, whether as a Republican contender or the leading Democratic candidate, might wish to observe how the word "great" has struck a chord with his supporters. "Great," which is tied in our notions of the "Great American Dream," the "Great American Novel," and even Great American Cookies, clearly has enough life left in it to change the course of the next eleven months. The time has come to reappropriate "great" from Trump and use it with a more meaningful greatness that wins back voters. America is too important a nation to have its notions of "greatness" be defined by a man hawking snake oil and hate. And failing that, for the cynics and the skeptics understandably tired of all these platitudes, there's always the giddy nihilistic prospect of "great" becoming meaningless through overuse. Which would reveal Trump's notion of "making America great again" for the shallow mantra it truly is.