Years ago, when I was a gaunt student, I had the opportunity to pick up the Criterion laserdisc edition of Mike Leigh's Naked (one of my favorite films from the 1990s and one that you should watch immediately) for what was then a colossal sum: thirty dollars. Never mind that I didn't own a laserdisc player. But I did conjure up some cockamamie idea about duping a VHS copy from a friend's laserdisc. I demurred on my purchase, only to learn months later that the disc had gone out of print.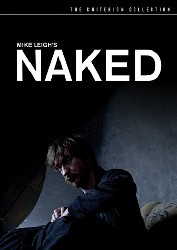 A decade has now passed since that fateful day. Never did get a laserdisc player, but I did get me a DVD player well before it was fashionable. And even though I later got the opportunity to interview Mike Leigh (who, go figure, was a major hardass in person), many tears were shed over the fact that this film, an unapologetic masterpiece, a brutally honest and almost Doestoevskyian depiction of a drifter (played brilliantly by David Thewlis) and the lives he seems to alter and disrupt (when in fact it may be other lives and class trappings that alter and disrupt him), never made the jump to DVD.
Until now. Come September 20, Criterion will finally release this brilliant film to disc. I'm not certain if the commentaries are going to be reflective of the laserdisc ones or freshly cooked up for the DVD. Either way, this film's ballsy magnificence, multilayered characters and deceptively fragmented narrative cannot be overpraised. And if you have any cinematic awareness whatsoever and still have not seen this film, then I urge you to fill in this cultural gap immediately. Hell, if I run into you at Ameoba come September, I will put this disc into your hands and persuade you to buy it.
The film is one of those rare Rorschach tests that presents oodles of multilayered human behavior for viewers to parse. You'll constantly question how characters relate to each other, why they relate to each other, and how they can even stand each other. And then you'll find out more details about them and understand why. Maybe. Because in Mike Leigh's universe, there are a lot of gray areas and certainly no clear-cut explanations. The reason the film's characters are so vivid is that Naked is perhaps the summation of Mike Leigh's filmmaking technique, which involves improvising and developing characters with actors over the course of six months and only then working out what the film is about.