On the last Thursday of October, Jeff Berry sent an email to his friend, Monica Gaudio. Berry informed Gaudio that an article called "As American as Apple Pie — Isn't!" had been published in Cooks Source Magazine.
"Is this you?" asked Berry. "Is this your article? And how did you get it published? Because I'm trying to break into any market that I can."
Gaudio, who identified herself to me over the phone as "an amateur medieval enthusiast," went home last Thursday and discovered that an article she had written on Gode Cookery, which contained a clear copyright notice at the bottom of the webpage, had been reprinted on Page 10 in Cooks Source's October 2010 issue.
"They used the website that I had," said Gaudio. "I own the domain name. Jim Matterer owns most of the content. However, that article is mine."
The first thing Gaudio did was call the number listed at the Cooks Source website. An hour or two later, Judith Griggs — editor of Cooks Source — called Gaudio back. Gaudio missed the call. Griggs told Gaudio to contact her by email. This was the best way to get in touch with her. Gaudio emailed Griggs, pointing out that Griggs had published her article.
"Well, it was on the Internet," replied Griggs by email. "Didn't you want it published?"
Gaudio wondered how to respond to the email. Initially, she thought that Griggs was a new copy editor who was perhaps a bit nervous on the job. But she began to wonder if Griggs was something more sinister. Perhaps a database collecting her private information. When it became apparent that Griggs was actually running the show, Gaudio grew dismayed.
"I couldn't believe I was explaining copyright to a magazine editor," said Gaudio. "This is not fair use."
In that first email, Griggs asked Gaudio what she wanted to do about this. Gaudio replied that she wanted three things: an apology on Facebook, an apology in the magazine, and a $130 donation (ten cents a word for the 1,300 words that Griggs had published without Gaudio's permission) to the Columbia School of Journalism. She decided upon CSJ because the famed New York school was considered to be an excellent one for journalism and because it was easy to make an online donation.
Griggs replied by email to Gaudio's request last Thursday, pointing out that the Cooks Source staff was very busy and was trying to publish an issue.
Gaudio sent additional emails to Griggs. She figured Griggs and her staff were leaving for the Halloween weekend.
Then, on Election Day, Gaudio received Griggs's response. Gaudio's Livejournal entry, chronicling her story, kickstarted a massive Internet awareness campaign that, as of Thursday afternoon, had counted writers Neil Gaiman and John Scalzi among the supporters. When I spoke with Gaudio early Thursday afternoon, she told me that she was afraid to look at her email.
My phone calls to Judith Griggs were not returned. But in Griggs's email to Gaudio, partially excerpted on Gaudio's Livejournal, Griggs suggested that Gaudio should compensate her for the time she put into rewrites.
"It was 'my bad' indeed," wrote Griggs in her email, "and, as the magazine is put together in long sessions, tired eyes and minds somethings forget to do these things." Griggs also insisted that Gaudio's article was "in bad need of editing."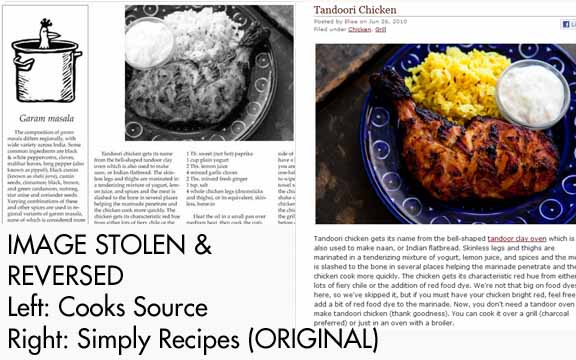 But a Thursday investigation revealed that not only is Cooks Source in the practice of stealing articles and publishing material without permission, but the magazine often pilfers the images which accompany the content. Such was the case with two entries stolen from the website, Simply Recipes. In Cooks Source's July 2010 issue, the Simply Recipes entry on tandoori chicken was taken wholesale from the website, with the photo merely flipped over in print. (On the same page, a sidebar item on garam masala recycles text from the Wikipedia entry.)
I spoke with one publisher by telephone, who asked to remain unnamed for this piece, about a book excerpt that had run in a recent Cooks Source issue. The publisher later informed me that it hadn't worked with Cooks Source before and that the magazine had never sought permission to use the excerpt.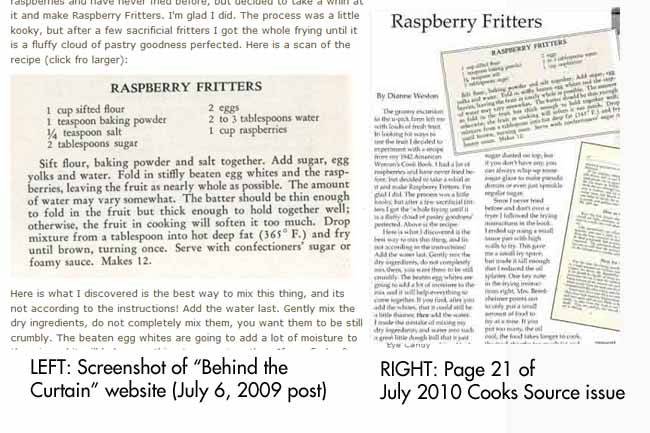 On July 6, 2009, the website Behind The Curtain published an essay on a raspberry fritters recipe that she found in a 1942 cookbook. Not only did Cooks Source print the majority of the essay on Page 21 of its July 2010 issue, but three photos taken by Kathy Zadrozny had also been reproduced. This occurred despite the fact that Zadrozny's About page contained an explicit copyright notice in relation to her images.
"I haven't seen any reproduction of my articles anywhere nor have I heard of Cooks Source," said Zadrozny by email.
The July 2010 issue also reproduced at least seven recipes from The Food Network. Shawn White of The Food Network's Licensing Department did not return my calls, but I alerted him to the recipes in my voicemails to him. The Cooks Source issue contained the following Food Network recipes: Chicken Chopped Mediterranean Salad with Feta Vinaigrette (page 10), Blackberry Lemonade (page 10), Mixed Berry Soup with Gelato (renamed Mixed Berry Soup) (page 11), Fresh Mozzarella BLT with Pesto (page 11), the Best Burger Ever (reprinted as "Alton Brown's Best Burger") (pages 12-13), Napa Valley Basil-Smoked Burgers (page 13), and the Feta Sun-Dried Tomato Stuffed Prosciutto Burger (republished as "Jairs Burger") (page 13).
On Thursday afternoon, I was informed by nutrition consultant Dana Angelo White that the legal department was looking into a Cooks Source article on page 24 taken from two of White's pieces written for The Food Network's Healthy Eats blog: "What Does 'Natural' Mean?" and "9 'Healthy' Foods to Skip."
On page 12 of the July issue, Cooks Source also reproduced this hamburger history article. The original website has a clear copyright notice from Linda Stradley at the top, but Stradley hadn't returned my email to confirm that the article had been used without her permission.
For every reproduction that I found, I made efforts to contact the original copyright holder. And the above examples demonstrate unequivocally that nearly the entirety of Cooks Source's material has been taken from other sources and that, in at least four instances, Cooks Source did not obtain the necessary permission to reproduce the material. The onus is now on Cooks Source to produce the appropriate paperwork to demonstrate that it secured the release. But since Judith Griggs is uninterested in returning telephone calls, since she has demonstrated a lack of concern for copyright, and not a single writer, publisher, or organization has come forward with proof positive that Griggs has played by the rules, one can conclude from the presented evidence that Cooks Source is a magazine that profits on theft.
While big companies like Scripps (which owns The Food Network) have generous coffers with which to resolve legal matters, enthusiastic amateurs like Monica Gaudio don't have that luxury.
"My understanding — and again I am a lay person — is that a copyright has to be litigated in federal court," said Gaudio. "Federal court costs a lot of money. Hundreds, if not thousands of dollars. So will I litigate? Possibly. It's so small."
Gaudio told me that it's "unfair" for her to spend so much money to defend her copyrighted material. Yet despite all the Internet attention and Griggs's recalcitrance, she hasn't adjusted her demands. She simply wants Cooks Source to make two apologies (in print and on Facebook) and donate the $130 to the Columbia School of Journalism. She's played by the rules. She's filled out the form on Facebook. All this would just be over if Cooks Source would own up and apologize. But according to Cooks Source's message machine, last contacted at 4:00 PM on Thursday, the staff is just too busy to talk.
11/4/10 LATE PM UPDATE: First of all, thanks to Neil Gaiman and many others for the overwhelming traffic that this story has received (and with great apologies for the bumpy server). In the interest of tying up some loose ends, I've heard back from Elise Bauer, of Simply Recipes. She had this to say by email:
For the record, Cooks Source has used my copyright protected content without my permission. The copyright notice has been on every page of my site for 7 years.

I'm astonished by the flagrant plagiarism and copyright infringement. I'm also dumbfounded by the Cooks Source publisher's response to complaints that have been made about the use of other bloggers works without permission. This person honestly believes that everything on the Internet is public domain.
So that gives us five definitive cases instead of four.
I have also heard back from the head of a publishing imprint who was very interested in speaking with me on the phone. I'm going to touch base with this individual tomorrow morning and report back any additional news pertinent to this story, if warranted.
11/5/10 LATE PM UPDATE: In the comments, Linda Stradley left this message:
I've just read your article, The Cooks Source Scandal: How a Magazine Profits on Theft, and was very surprised at reading my name.

I also was never contacted to ask permission to use my copyrighted article on the "Hamburgers – History and Legends of Hamburgers."
That brings the tally up to six.