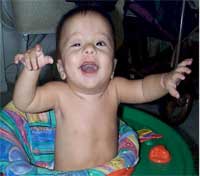 In response to the recent news that 25 year old John Buffalo Mailer, the youngest child of Norman Mailer, will be taken over the reins of High Times, Return of the Reluctant has learned that Ishmael Harris Bellow, the illegitimate grandson of novelist Saul Bellow (and little-known son of Adam Bellow), age 2, will become editor-in-chief of Playboy Magazine.
"We needed credibility," said original founder Hugh Hefner. "Someone in touch with the next generation's tastes."
The decision to hire Bellow came hot on the heels of other noted family involvements (Drew Barrymore's mom and Michelle Pfeiffer's sister, to name two pictorial collaborations). Magazine insiders report that the Bellow decision, not unlike the Mailer hire, is nothing less than a desperate attempt to boost sales of a magazine that has lost its cultural relevance.
"Hugh Hefner is the worst publisher of his generation," said Dale Peck, who then declared Playboy "homophobic" because it had refused to publish his stories.
"Goo goo ga!" replied Bellow, who then demanded to be burped and had two unpaid editorial interns close the door to his spacious Manhattan office.