It had been a good eighteen years since I last set foot in Hoboken, and the first thing that hit me was the smell. It was a pungent industrial monster that scampered up my nostrils and left me curious about the source. The drift came in from the Hudson and had overpowered the pleasantly frigid air of the forty degree cold. The smell became less pronounced as we set on foot away from Hoboken Station — a fairly typical terminal of the era it was built in, if one judges it by its capacious and recently restored waiting room — our purpose to see Dr. Dog at a place called Maxwell's and to have Mexican food at a place called East L.A.
Shortly after emerging from the terminal, we steeled ourselves in a corner bar over $2 Yuenglings, waiting for our party to assemble. Our party included another writer — an amicable and quite tall Jersey gentleman (this vertical physical characteristic will factor in later) — who I did my best to cheer up over some regrettable personal developments.
As we set foot down Washington Street, the Jersey writer attempted to impress me with Mark Twain quotes. I observed that the difference between bandying about a quote involving lightning and the lightning bug and being aware of the fine band Dr. Dog was considerable, and that there was no need for cabotinage involving the former, when the latter was more specialized knowledge and outside the purview of academics. I made a few snide cracks about Jersey, not to inflame, but to enable this gentleman to defend his state and show me its wonders, which I was genuinely curious about. Washington Street, one of the main Hoboken drags, was possessed of many franchises, including — according to this writer — the first Blimpie's. Surely, there was a recherche shop, an out-of-the-way niche, or another special locale that would permit Hoboken to shine. But perhaps Hoboken was a better place for personal interconnections. Because later, on the way to Maxwell's, this writer ran into someone he had known from high school.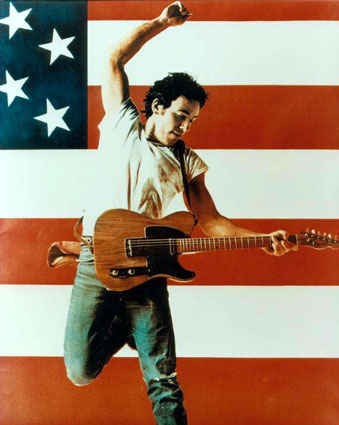 I was worried about the vicarious provincialism within the restaurant's name, largely because it too smelled of a certain culinary hubris and the margaritas came not in bulbous glasses, but in fairly common vessels — slightly fluted, possibly more suitable for modest ice cream sundaes. The salt laced on the rim of the glass seemed anticlimactic because of the glass's elliptical inefficiencies, but the margarita was serviceable and the waitstaff friendly. To test the waters, I had ordered two chiles relleno — one of chicken, one of cheese. The hot plate was pleasantly unpretentious and even came with a dollop of corn.
We then hiked a few blocks to Maxwell's. From the outside, you wouldn't know this was a place where bands like The Gourds (or even The Lemonheads!) still played. Most of its real estate was assigned to a boisterous bar. In the back, there was a small room that reminded me of The Cattle Club — a small Sacramento venue where I had seen many shows in the early '90's and that is regrettably no longer around.
The writer needed a ticket for Dr. Dog, and it took some initiative on my part to obtain information about when the back room would be open. Needless to say, we passed through the doors without incident — half-imbibed pints in our hands. I was told by the writer that Bruce Springsteen's "Dancing in the Dark" video was shot in this room — the one with Courtney Cox. I can find nothing to corroborate this information, but after having viewed the video again, it is quite possible. If it was indeed Maxwell's, the music video director certainly went out of his way to make the place look bigger, including adding an additional dais at the front of the stage to make Springsteen appear as if he was playing a mid-sized venue. This Springsteen enthusiast seems to believe that it was the "Glory Days" video that was shot here. And having examined the evidence, I have to say that this is a plausible theory.