In response to Brittany Murphy's recent death, NBC has pulled a clip from Hulu depicting Brittany Murphy (as played by Abby Elliott), appearing on the Weekend Update section of the December 5, 2009 broadcast of Saturday Night Live. What follows is the sketch presented in a manner that transforms it from its original medium (video) and therefore permits this to fall under the fair use principle. I have appended commentary near the end of this post to ensure that it will not be confused as a replica of the original material and I invite readers to cut and paste this transformative representation to any and all blogs and news organizations, so that people can be informed of what NBC is attempting to hide from the public. This representation is presented for noncommercial and educational purposes.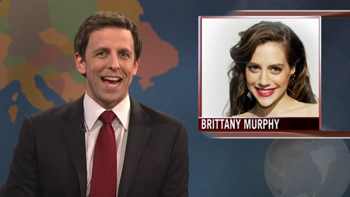 TITLE CARD: BRITTANY MURPHY
SETH MEYERS: It was reported this week that actress Brittany Murphy was fired from her upcoming film, The Collar, from being a detriment to production and…oh no.
BRITTANY MURPHY: Seeeeeeeeeth.
SETH MEYERS: Brittany Murphy.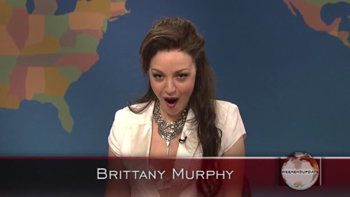 BRITTANY MURPHY: Seth, I'm really honored to be here, hosting Saturday Night Live.
[It is worth observing that Abby Elliott's performance of Murphy involves keeping her lower jaw down and moving her head left to right, as if Brittany Murphy is mentally handicapped. Her two palms remain flat against the newsdesk.]
SETH MEYERS: No, no, Brittany, you're not hosting.
BRITTANY MURPHY: [idiotic laugh] Yeeaaaaaaaaaaaaaaaahhhh.
SETH MEYERS: I thought you were shooting a movie right now.
BRITTANY MURPHY: Yeeaaaaaaaaaaaaaaaahhhh. They fired me. [idiotic laugh] Yeeaaaaaaaaaaaaaaaahhhh.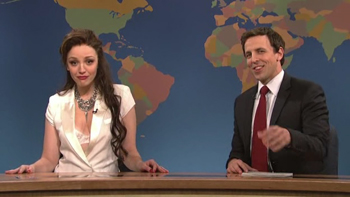 [More head bobbing left and right from Slate. This is, as one would expect, your typically stupid one-note SNL sketch.]
SETH MEYERS: Brittany, that's really too bad.
BRITTANY MURPHY: It's not bad, Seth. I got a plan. When the movie comes out, I'm going to go to the theater and say, "Booooooooooooooooooo!!!!!!" (small idiotic laugh) And then the audience will join in and say, "Booooooooooooooooooo!!!!!!" And the director will say, "Awwwwwwwwww dag!" And then I'll be all, "Told you!" Best plan ever. (idiotic laugh) Yeeaaaaaaaaaaaaaaaahhhh.
SETH MEYERS: I wouldn't call that the best plan ever.
BRITTANY MURPHY: (shouting) Ladies and gentlemen, Blink 182.
SETH MEYERS: (slamming his desk) You are not the host, Brittany Murphy.
BRITTANY MURPHY: Yeeaaaaaaaaaaaaaaaahhhh.
SETH MEYERS: (sarcastically) Yeeaaaaaaaaaaaaaaaahhhh.
BRITTANY MURPHY: I'll never tell.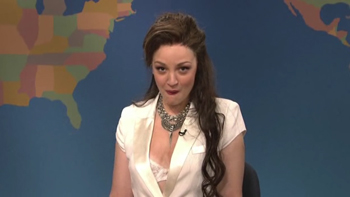 [Elliott then slides on her chair stage right and off camera.]
SETH MEYERS: Brittany Murphy everybody! (raises eyebrow in dubious belief)
* * *
COMMENTARY: Aside from the sketch's bad timing, there are numerous problems with the concept. Beyond the sketch's failure to establish a legitimate reason as to why Brittany Murphy should be the target of satire (presumably the sketch writer simply believed Murphy to be idiotic), and beyond the sophomoric reliance upon "Yeaaaaaaaaahhh!" and the news that she gets kicked off of film sets, it is simply not funny. If the audience is presented with a character and the character exists solely to be offered for an audience's scorn, then we are not dealing with a character, but a flat and one-dimensional archetype. We certainly need more than junior high school verbal tics in order to either (a) relate to the character or (b) have some reason to scorn the character. We must understand the character's motivations. And those motivations need to be presented without judgment. (In this case, Meyers exists to confirm the audience response, leaving no room for thought on the part of the audience member.) These qualities are what makes memorable comedy. What are the motivations here? Confusion and apparent stupidity. Nothing more. Not even stupidity combined with arrogance, which makes for a ripe satirical target. What made Tina Fey's performance as Sarah Palin so memorable was that she presented us with merely a replica of the genuine article. This may say more about the failure of SNL writers to come up with original material or it may demonstrate the maxim that truth is stranger than fiction.
Aside from these conceptual logistics, the sketch is poorly executed. Abby Elliott's performance of Murphy is exceptionally poor. Bobbing your head left and right and keeping your palms flat upon the table is the stuff of forgettable community theater. It is not the stuff of major television comedy. Granted, Elliott has been given some pretty terrible material to work from. But this does not excuse her staggering incompetence as a performer in relation to this sketch.
Finally, NBC needs to be taken to task for failing to preserve this sketch on Hulu, which will surely increase interest in the base material. The idea that NBC is above making a mistake (uh, Jay Leno?), and the failure of NBC to issue a public apology while presenting the sketch or the episode in its original form, demonstrates that it is not interested in preserving history, much less letting the people determine whether the sketch is funny. NBC's instant and avaricious decision, together with its draconian attempt to prevent the clip from surfacing upon YouTube, shares distressing similarities to Stalinist revisionism and should be roundly rejected by anybody who values civil liberties and the freedom of expression.