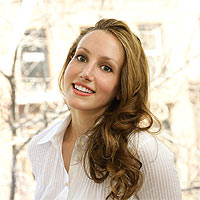 I have always done my best to learn from failure. And I wouldn't be honest if I didn't report that, this afternoon, while conducting an author interview, I failed to carry out my duties as interviewer. I hope that my honesty here will atone for my inadequacies.
This afternoon, I attempted to have a conversation with Marisha Pessl for The Bat Segundo Show. I use the word "attempted," because I saw no point to continue the conversation after the twenty minute mark. It wasn't working out and we would have gone around in circles. I thanked Ms. Pessl for her time, apologized, and she ran away from me as if I were a leper.
We weren't getting anywhere. I think it's because Ms. Pessl, and please understand that I am not trying to make her look malevolent here, isn't accustomed to having her assumptions questioned. Maybe it's because, last year, I made about one tenth the amount that Pessl got for her book, and there was a division. Maybe it's because Pessl is attractive and I'm just some average-looking thirtysomething going bald. Maybe it's because my interviewing style is less rapid-fire Q&A and more conversational and idiosyncratic. Maybe it's because I don't like to ask questions that everybody else asks. Maybe it's because Pessl doesn't like to consort with my kind.
I honestly don't know. But I deeply regret what happened.
My approach, which has been carried forth in over 130 author interviews, is to offer ideas and observations and to work in a series of conversational calls and responses with the author. These are things I have picked up from careful study of the interview masters: Robert Birnbaum, Dick Cavett, and a number of other interviewing influences. But in Pessl's case, she kept asking me, "What's the question?" When I offered a few unusual perceptions of her book, it was apparently incompatible with her absolute authorial intentions. And even then, you couldn't talk about this, because figuring out Pessl's book was up to the reader. So what then was the point of the interview? (Interestingly, while Mark Danielewski kept his cards close to his chest and doesn't like to reveal answers, we were still able to talk about Only Revolutions quite well. Did I simply fail to read Special Topics in Calamity Physics? I don't know.)
So I abandoned my usual approach and opted for a more routine approach of boilerplate questions.
"Okay," I asked, "but what of literary ambiguity?" That stuff that William Empson was writing about more than seventy years ago. "What steps did you take to allow for invention? What kind of herringbone plot structure did you jump off from?"
I got terse responses from Pessl that had nothing to do with these questions.
Pessl had looked at her watch about ten minutes in and seemed about as happy to chat with me as if I were some porter she'd have to endure as she checked in her luggage. I failed to connect. It was my fault.
Why did I want to interview Pessl? Well, I've always done my best to talk with the misunderstood. And I had a sense that, irrespective of the class chasm, Pessl was misunderstood.
There had been considerable controversy over whether the book had been accepted because of Pessl's good looks and because the book had been judged less on its merits and more on the amount of money. I had wanted to talk about some of the book's constructs: the reliance upon annotations, the hermetic bubble that the protagonist Blue prevents her from interacting with the world, the like. I would stop, allowing for a pause, and then Pessl would stare at me.
I failed.
Then again, I suppose, after 130 interviews, a failed interview had to happen sooner or later.
I'm still determining what I plan to do with the conversation we recorded.
So for the moment, I apologize to Ms. Pessl, to Penguin for going to the trouble of arranging this, and to my listeners and readers.
The hell of it is, I conducted two really great interviews earlier in the week.
I've held my own with Martin Amis, John Updike, Richard Ford, and Erica Jong. Why then could I not talk with Pessl?
I look upon this failure as a learning experience. This incident has certainly made me rethink how I approach interviews. And aside from one interview I have lined up, I plan on taking a break from these conversations. I'm going to dwell upon what happened and get back to you with an answer on what I plan to do with this material.
In the meantime, there are many interviews in the can, all of them quite fun and good, and my conversation with Marshall Klimasewiski should go up tomorrow.
[UPDATE: Thanks to all for the kind words. I'm truly stunned. I've listened to the interview and I think it would be best for all concerned parties if I didn't post it. If I came into the interview to have a literary discussion and it didn't happen, then I'd rather take the high road here.]