WASHINGTON D.C. (AP): This morning, in front of reporters, Cookie Monster revealed shocking allegations that his love for cookies was being curtailed against his will by the producers of Sesame Street.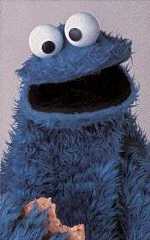 "Me so sorry!" said Cookie Monster in front of a mob of reporters. "Me still like cookies all the time. But Cookie Monster needs money to buy more cookies."
Three journalists, trying hard to remain objective, broke down almost immediately upon learning that a pivotal character from the long-running PBS children's program had sold out. Kleenex was offered.
The 36th season of Sesame Street will respond to the growing crisis of obesity. Characters will now sing the praises of vegetables and nutrition. But as TV critic Tom Shales recently noted, "If the Cookie Monster can't have cookies all the time, it's clear that Sesame Street has jumped the shark."
Sesame Street producers were asked whether such a dramatic change in Cookie Monster's diet would have adverse effect on Cookie Monster's metabolism, which scientists believe involves an exclusive diet of cookies. Calls were not returned.
The slimmer Cookie Monster showed a noted loss of vigor at the press conference, the result of a sharp reduction in his cookie diet. He said that he was sadder than usual and that the sudden introduction of carrots into his meals had made him sick. Even the news that his sudden weight loss had earned him People's "Sexiest Monster Alive" offered no solace.
"Me can only eat cookies," said Mr. Monster. "Why they no understand that me like cookies and cookies are for me?