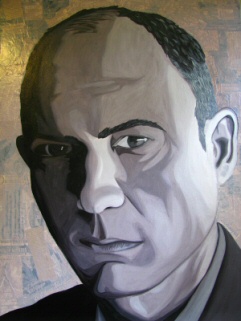 Dan Carlin is a very intense and passionate man. One can hear the veins bulging out of his neck when he talks about history. I do not know what the man's caffeine intake is, but his podcasting presence is a welcome alternative to the soporific lectures sometimes associated with historians.
Carlin's brio is a good thing. And it's why I've become a fan of his podcast, Hardcore History.
There are regrettably no hyperlinks in Carlin's archive, but if you spend a day or two bouncing around in his archives, you'll find a 40 minute monlogue on the impact of drugs and alcohol on historical events, a febrile portrait of Winston Churchill ("A racist! A colonialist! An alcoholic! A bad parent! A reactionary! Militaristic! A megalomaniac! A shameless self-promoter and self-advertiser! These are just some of the criticisms that have been leveled at Winston Churchill throughout history." And he's only just getting started.), and speculation on what might have happened had events during the year 1066 turned out differently. He's also managed to land an interview with Connections man James Burke, who sounds slightly wary of Carlin's enthusiasm, but is a good sport.
If you have even a passing interest in history and science, Carlin's energy will most certainly get you pumped up in ways that you may not expect.