(This is the third in a five-part roundtable discussion of Richard Powers' The Echo Maker. Be sure to check out Part One, Part Two, Part Four, and Part Five.)
Dan Wickett writes:
Like Levi, and it seems Sarah, I'm indebted to Ed and his roundtable idea as I'd not read any Powers before, and now have a small mountain of books I look forward to getting into soon.
I think Powers has done a magnificent job, with The Echo Maker, in giving his readers a great deal to think about. The storyline of Mark Schluter and Capgras Syndrome, a condition I'm going to assume most are unaware of, would have been thought provoking enough, but the inclusion of cognitive neurologist, Gerald Weber, a man who has observed and taken case studies over the past two decades allows Powers to drop many different neurological syndromes onto the reader throughout.
Reading the various anecdotes Weber either tossed out to others in the novel, or thought to himself, left me wondering just how rare it is for a person to see him or herself, others, or the world, in what might be considered a normal way? Is it possible that a child who never seems to be able to stop him or herself from doing something we believe that they know they will get in trouble for, is actually just acting as their neurological system allows them to, and not out of some obstinance?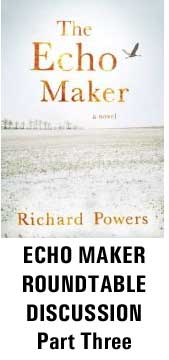 Not having read other work by Powers (yet!), but having read an interview or two that he's given, it's pretty apparent, as others before me have mentioned, that he's a writer of ideas, and I've seen his name linked with writers such as Delillo and Pynchon in this regard. I think one of the more difficult aspects for such a novelist is balancing along that very thin wire that holds him or her from falling too far into ideas and not writing about characters that the reader will care about — just creating enough to allow them to get into the ideas they want to dig into — something akin to an old Hollywood set with wooden fronts for buildings because the scene was going to be out on the street and not inside.
Powers, at least in The Echo Maker, has kept his balance. There are a good five or six characters within that I was interested in enough to worry about how the ideas were affecting them, and not just about the ideas themselves. Like Jenny, I love the fact that Powers concentrated so much on a sibling relationship, allowing Mark and Karin to delve into their individual and combined relationships with their parents as well. While marriage, and one's nuclear family is certainly an important aspect to who we are, the fact is, most of us live with our parents and a sibling or two for the developmental stages of our lives, and especially through the stages where we develop the most in terms of neurological issues.
Megan Sullivan wrote:
Wow, people have thrown out lots of interesting ideas and questions. One of the things I love best about Powers is that his books always draw deep discussion. No matter the topic, I usually end up thinking long and hard about what I've just read. With The Echo Maker I would say that he's succeeded in creating a novel of ideas complete with complex believable characters, which most critics don't seem to think possible.
Like Dan, I found the relationship between Mark and Karin one of the more fascinating aspects of this book. Familial roles are hard to change. They seem fixed and can often seem like a burden. I know that when I go visit my family, we fall into old familiar patterns. Once Karin's role as the steady caretaker is taken away by Mark's Capgras, she loses her identity. WIthout those familiar "landmarks" how is she supposed to find her way? How does the crane find its way?
Also, I wonder if Powers is suggesting that the cranes and possibly Nature are the only real possessors of true memories. This passage struck me: "He blunders toward that fact, the only one large enough to bring him home, falling backward toward the incommunicable, the unrecognized, the past he has irreparably damaged, just by being, Destroyed and remade with every thought. A thought he needs to tell someone before it, too, goes." (451) Nothing we remember can be completely accurate. Yet the birds are able to navigate their way back and forth each year, even with landscape changed by the vagaries of mankind. It's imprinted, its memory is a map.
Ok, I'll stop there. I've got a lot more to think about and I'm looking foward to more emails.
Edward Champion wrote:
Well, folks, you've set down some very interesting observations. Before I offer some additional thoughts (and I have about eight pages of notes here, so pardon the length), I wanted to jump back to Judith's evocation of Wallace Stevens and suggest that there's something considerably more intricate going on in this book about the role of absolute values in American culture. I believe that The Echo Maker is very much the social novel that Powers intended with Gain, revisited and repolished. As Jessica observed, while the book concerns itself with many nuanced social arcs, this novel is less partisan, permitting one to see "both sides of the argument."
I don't believe the broad ethical dilemma that Powers offers is solely a matter of what it means to "be" and "seem," but how one negotiates through absolute environmental variables (e.g., "WELCOME CRANE PEEPERS") that are ever shifting — a conundrum which extends not just to the cranes' dissipating existence, but to the town of Kearney, Nebraska and nearly every character in this book. Karsh's developmental fervor has already been remarked upon. But consider how Weber cannot pinpoint the name of his daughter's lover, or Barbara's overqualified status as a nurse (in particular, her great familiarity with books). Consider too the migratory nature of Karin's life reflecting the cranes, viewed by her rebooted brother as an impostor (perhaps due to not being in a fixed environmental locale?) and fairly ordinary, even though Powers tells us, "She herself had altered, perhaps more than any of them." (263) I also found Powers' description of clothing quite interesting. Sartorially speaking, he was most specific with Barbara and Karin, the two characters who are perhaps hiding the most and who have, we are led to believe, failed the most.
This not only reinforces Judith's dichotomy, but sets up a mighty textual terrain containing interesting fusions: "heavy bluegrass metal," the consistent comparisons to life as a video game, the Wikipedia-like People's Free Encyclopedia merging fact with conjecture, and cell phones often compared with mere props from thrillers and science fiction films. For me, one of the most interesting fusions was Mark as both hunter and naturalist, suggesting a working-class reincarnation of Theodore Roosevelt. There are references to gods, particularly near the end of the book, just as the characters hope to make one big existential kill before the end of the book's year-long cycle (of which more quite soon). I think the recurrent imagery of cars is also very important: not just because it is the quintessential American symbol of power, but because the automobile (specifically, the truck) is a great symbol of momentum, of divagating through an uncertain environment, unsafe at any speed. And yet it is the truck that has caused Mark himself to spill over. He has moved too fast and hard, and it is this failed momentum that causes his life and the lives around him to shatter. (On a side note, I found it interesting that his girlfriend Bonnie is religious and yet is taken with painting toes, thus "marking" Mark. And what is painting toes but bending over in a circular and thus cyclical position? As I'll go into more in a minute, I think The Echo Maker can be read as the representation of a cycle.)
No matter how happy or successful the characters are, they often face the pitfall of being unable to adjust to the world around them, often bogged down with self-destructive, solipsistic impulses (Karin smoking and Weber letting his book's critical reception tear him down, to name just two). Now for each of these two examples, I think it's fair to judge these as "self-destructive and solipsistic," since Powers himself judges as omniscient narrator and thus invites us to, portraying both Karin and Weber's feelings as these incidents happen. It is clear that what these characters feel is as important as what they perceive.
As Sarah suggested, this is very much about "meditations on levels of discontinuity." But I think it's important to identify where this discontinuity comes from. So I put forth the question to the group: is it the environment that causes these characters to disconnect or is it the characters' latent makeup? Are they like the cranes, migrating by instinct, congregating in a diner to meet their spouses by complete coincidence?
In some sense, Capgras Syndrome is something of a liberator for Mark. Because while the other characters must face the challenge of continually adapting to ever-shifting absolutes, Mark has the advantage of a fresh perspective. He is, as I suggested above, reborn. Rebooted. Does this make him susceptible to false ideologies, whether science or religion?
No one has made mention of the mysterious note: "I am No One / but Tonight on North Line Road / GOD led me to you / so You could Live / and bring back someone else." There is something within this note that suggested to me the capitalized nouns of the Declaration of Independence, that the note, like our founding document, is a statement of ideology, a blueprint for surviving in a world changing too fast. But this note is about random compassion, of paying it forward, so that the powers of good might live to restore brothers or cranes or any other target of basic human decency. The real question is whether kindness will be enough to preserve the world.
To return to the troubling William Deresiewicz review, I was initially inclined to agree with Deresiewicz's criticism that some of the characters' voices "sound like Powers' mouthpiece" — in particular, the Three Muskrateers, who, despite Powers' efforts to flesh out Rupp's backstory with Karin, felt particularly singular. But it occurred to me, upon further rumination, that Powers may have intended this trio to serve as a 21st century Greek chorus. It is their singularity of voice which imputes absolute cultural values that crush the Muskrateers' spirits, turning them into perfect synchronous tools, and, as Levi notes, in at least one case causing them to be unconsciously exploited by external forces promising them a reliable answer. But on the other side of the coin, Daniel himself is also quite singular, retreating to a "monk's home" — in his own way, relying upon others to help him safe the Refuge. It cannot be an accident that Karin is attracted to both
of these men.
This brings up another aspect of Echo that I found interesting: the concentration on fixed labor vs. work that one enjoys doing. Both Karin and Weber find a certain redemption when they choose work that comes closer to their hearts. And yet Mark, by contrast, wants to get out of cognitive therapy and get back to his job. There is the moment when one of the Muskrateers confronts Karin about how much he makes a month, and this suggested to me that money is, likewise, an absolute value that clutters the more individualistic and heartfelt powers of goodness.
I was also curious if any of you viewed the four main parts (with the fifth part serving as an epilogue of sorts) as four seasons. I think it's pretty significant that Mark's accident happens during the winter, the peak time when the cranes are migrating (as opposed to flying, like Kalatozov's great 1957 film, to which I kept mining the text for a reference, curious if Powers was familiar with it, because there's a good deal of cinematic references in this book). I also believe that the first part's imagery of wheat and plant life pushing through snow is as suggestive as the cows that occupy the third and fourth parts, grazing upon the grass and waiting for their eventual demise upon a barbeque. What's interesting is that the seasons here don't quite match up with the way the narrative is split up into four parts and yet I sensed an agricultural cycle at work here, something perhaps undetectable, if not wholly disregarded, by humanity.
I would also like to remark on Jenny's observation about the relationships in this book. I found it interesting that Weber referred to his wife as "Woman" and, while I appreciated the sincerity of this marriage, seeing Powers' attempt to qualify a type of relationship he hasn't really written about, I felt that something about the telephone calls was askew. Then again, like the Three Muskrateers, this may have been part of the point: another meditation on discontinuity that further flummoxed Weber.
In case it isn't clear enough, I could probably go on about this novel for some time. So I'll shut up for now, maybe weighing in later, and let others riff from here.