On Thursday afternoon, I encountered a pretentious coffeehouse on State Street. I did not know it was pretentious at the time. It was Thursday. I was existing in a pleasant miasmic swirl and I hadn't ingested anything narcotic. I needed prodigious oil. The overwhelming need for coffee (red-eye flight, one hour of sleep) overwhelmed my abilities to detect yuppie factor. The below picture (about as close to a W.G. Sebald moment as I can offer) should give you a clue as to how zonked out I was: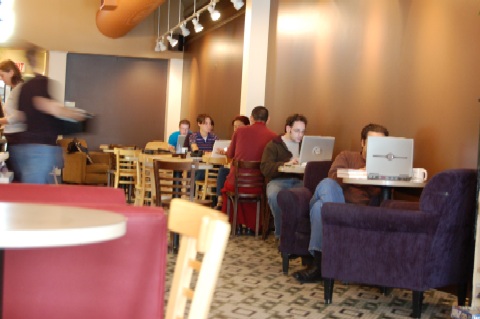 I bring this up not to knock down a Madison coffeehouse that is, in all likelihood, still finding its sea legs (or, this being Wisconsin, lake legs), but to suggest how such an autocratic atmosphere of Caucasians staring intently into a frighteningly similar series of grey laptops, no different from a cube farm really, might spawn or influence the conversation I observed between a humorless barista and a rather sour-faced thirtysomething (apparently one of the regulars):
"What's going on at the Concourse?"
"Oh, it's just a bunch of mystery writers. Some conference."
"Mystery writers? What a bunch of dorks."
"Well, I suppose it's good for business."
Now I was prepared to jump to the defense of mystery writers. After all, I have tried over the years to be a genre-blind reader and see no difference between a book categorized in the fiction section and one categorized in one of those other sections. And it pisses me off when a book is so readily dismissed because of its genre (or, if you're a mainstream critic like Lev Grossman, you cling to it like a weekend hobby you might try out someday). As a exuberant conversational propagandist, I have done my damnedest over the years to get literary people, everyday readers, and pretty much anyone who reads to consider that the books shoved off into the back of the library or the bookstore are as genuine as their literary counterparts.
In fact, one of the reasons I had come to Bouchercon was to see if I could solicit ideas on how to beat genre ghettoization or perhaps get some thoughts from various people on why the great divide continues to exist. Could a literary guy like me, who goes out of his way to read widely and deeply, allemande with these mystery enthusiasts and work for a better tomorrow? Could we work to extend the conversation further?
But while I had great fun in Madison (if you ever go, you must see the cows that line down State Street and around the capitol; there are also beautiful trees and lakes), I ended up avoiding most of Bouchercon. Oh, there will be a small Bouchercon podcast. But if Bouchercon is the model for the mystery convention, I have no desire to go to one of these things again. There may have been a kernel of truth to what the two people at the cafe were talking about.
Perhaps there's something metaphorical in the way the first interview I recorded at Bouchercon was seven minutes of conversational gibberish. (Then again, it may very well be Lee Goldberg's fault. Or my own.)
As it turns out, the mystery writers and mystery enthusiasts I encountered, with only twelve notable exceptions (I did talk far and wide), have no interest in chatting with you unless you have read some obscure novelist. Dare to mention a mystery author who straddles the fence between mystery and fiction and you will be given a look normally reserved for a Mensa member preening down at the commonweal. I tried to talk with these folks with the apparently feeble string of mystery authors I had read. I mentioned Walter Mosley, Stanley Ellin, Laura Lippman, Ian Rankin, Arturo Perez-Reverte, Charles Willeford, George Pelecanos. That's seven names right there. You would think that would be enough. And failing books, I was prepared to dip into my considerable film noir knowledge in an effort to find some common ground.
No such luck. I was greeted instead with exasperated sighs, guffaws, and a passive-aggressive contempt.
"If you haven't read mysteries, then what are you doing here?" said one frumpy middle-aged woman, clutching a collection of books to her like the Babylonian Talmud. "Why don't you go down State Street and drink with the college kids instead?" This was after I asked this woman if she knew of any mystery novelists, outside of James Ellroy, who might employ experimental style.
Well, with prissy elitist attitudes like that, I would, in fact, much rather talk to some drunken twentysomething in a Packers sweatshirt. His incoherent shouting would be more heartfelt. Is it any wonder why the genre isn't taken seriously? Is it any wonder why no newspapers bothered to cover Bouchercon? (And after about twenty minutes of waiting around, I never did collect my press credentials. The security was so lax that I simply walked right into the Concourse with my gear.)
I talked with a number of mystery writers (among the twelve exceptions) about this issue. They claimed it was because much of the Bouchercon crowd was socially inept. They claimed any number of excuses. I suspect it has something to do with the idea that these people are pilloried at home when they read mysteries and that this is the only time that they are able to announce their interests. But why not stand proud for what you like every day? Why be ashamed when a humble enthusiasm is often infectious?
I don't buy it. If these people are smart enough to read mysteries and become experts at them, then it follows that at least a few people among the crowd might be smart enough to recognize that the kind of strange hubris I have described above further margnizalizes the genre. It is this attitude that causes the two people at the coffeehouse to dismiss them. And it is this attitude that makes Bouchercon a colossal joke.
Of course, there will always be the books. And I'll be happy to read them and suggest them to friends. Except I won't be calling them mysteries. I'll let the Bouchercon monomaniacs do that. They're doing a fantastic job expanding the chasm.