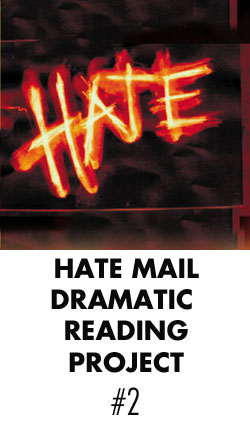 A few weeks ago, somebody forwarded me an email. The names have been changed, but it appears that someone grew especially hateful and oversensitive about how some organizer arranged an author reading. And so my audio series — Hate Mail Dramatic Reading Project — must continue. The following clip represents my dramatic reading of this individual's hate mail, read in a muted Peter Lorre impression that eventually mutated into Andy Serkis.
I plan to continue reading more hate mail. Again, I will be happy to read any specific hate mail that you've received. (If you do send me hate mail for potential dramatic readings, I only ask that you redact the names of the individuals.)
Click any of the below links to listen.
Hate Mail Dramatic Reading Project #2 (Download MP3)
This text will be replaced