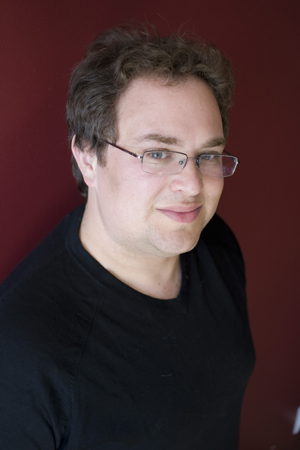 In 2006, Kevin Smokler, the speaker and editor behind Bookmark Now, partnered with Chris Anderson, editor of Wired, and software developer Adam Goldstein to determine just how information about bookstore events and authors might be collected at an online hub. That central place turned out to be BookTour.com, which purports to make "finding when a favorite author is coming to your town as easy as checking the weather."
This sunny mission got a much needed dose of radiation back in April when BookTour received a $350,000 cash injection from Amazon.com. While the news was eclipsed by the Amazonfail contretemps at the time, the big financial push certainly suggested that BookTour.com wasn't about to set into the sunset anytime soon.
At the time the deal was announced, nobody had remarked on the grand irony of an online giant like Amazon using events listed at independent bookstores to make a quick buck. Fortunately, BookTour CEO and Chief Evangelist Kevin Smokler was kind enough to take some time out to answer some vital questions.
BookTour is financially supported by Amazon. Isn't there a conflict of interest here? If, for example, a customer sees the BookTour link on an Amazon Author Page but the customer is encouraged to purchase the book from Amazon (instead of the bookstore at an author appearance), doesn't this result in a lost sale for the bookstore? What steps are you taking to ensure that independent bookstores are able to secure the sales they require to support the financial burden of an author appearance?
Ed, we're in the awareness business. Our job is make author events known to the greatest number of people that we can. No doubt that some potential customers who spot an event on Amazon will buy the book there and either (a) not go to the event at all or (b) go to the event with that Amazon purchase in hand. However, there's an entire other second class of potential event attendees who will go to an event and may wish to reserve judgment on buying a book until they see the author in person. At that point, only the bookstore is in a position to sell the book to them. Also, we must consider whether that person would have known of the event at all without it being listed in such a high traffic place like Amazon.
Bottom line: The level of awareness that an event receives when listed on Amazon, to our mind, far outweighs the potential loss of sales. As to whether a store can financially support an event, that's up to them. There are plenty of ways to run a bookstore in the 21st century and we believe smart booksellers know much more about this than we do.
Since BookTour is reliant on the Amazon Author Page for its infrastructure, have you worked out a scenario in which an Indiebound link will be available on an Amazon Author Page?
Sort of. Amazon has a corporate policy which disallows any outside linking to anybody. It's a policy that BookTour disagrees with and which we have made known to Amazon. We hope to change this as our relationship with them deepens and moves forward.
For now, any bookstore may include a link to their e-commerce operation inside the description of any event happening at their store, so long as they added the event to our database. If their store's website is powered by IndieBound, they need only include that link in the event description and the feed arrangement we have with IndieBound takes care of the rest.
(That link is not a clickable link, only one that can be cut and pasted into a separate browser window.)
We realize this is far from an ideal solution and we have told Amazon as much. We hope to change this going forward.
You say in your press release that Booktour represents the largest database of author and literary events. Do you mean to say that you now have relationships with every publisher? What are you doing to ensure the reliability of this information? Do you have someone on board who is checking the data on your site against the bookstores and the publishers?
Many publishers, but not all. Via our syndication relationships with both chain and independent booksellers, we can assure that we cover nearly every event happening in America in a bookstore. Libraries, universities, corporations, civic institutions and individual authors and publicists all actively list with us as well.
Reliability: Every event that enters our database is checked against several automated scripts and algorithms. We also do an additional level of checking by human eyes. All told, incorrect event data rarely lives on BookTour for more than 24 hours.
Checking: For more than a year, we've had syndication relationships with the major bookstore chains and Indiebound. Meaning they send their upcoming events in an automated feed to us which we update every 24 hours. We just set up a similar relationship with Simon & Schuster and we have several such relationships under active development with other publishers.
Is the information on Booktour proprietary in any way?
No.
Are you applying any DRM?
No.
Is Amazon claiming it to be proprietary because it appears on their pages?
No.
If Booktour is open source, do you have a specific agreement in place with Amazon to ensure that the information, as disseminated through their pages, remains open source?
Yes. Part of the terms of our deal with Amazon was that anyone else is free to use our data exactly as Amazon does, now and in perpetuity.
You've introduced EventMinion, which will take author tour data in any format and permit professionals to enter it into your database at $1 a pop. Yet users will still be able to add events for free. How are you distinguishing between EventMinion-added events and user-added events?
We're not. To us, an event is an event is an event.
Will you place greater priority to listing EventMinion events over the user-added events?
No. See above.
TourBuilder gives the author an opportunity to receive an automated itinerary of bookstores. Are you charging for this service?
No.
Are you prioritizing some cities over others for this?
No. Users choose which cities they want to visit. If they don't, we suggest larger cities with more available venues.
Big box stores over independent stores?
No.
Then what is the methodology behind TourBuilder?
Venues are suggested based on where authors with similar books have toured in the past. Which means that the more authors that use TourBuilder, the smarter it gets.
If Amazon controls the minority stake, who controls the majority?
The three founders and our one employee.
To what extent is the majority committed to not being bought out by Amazon (as they are wont to do with such handy services that it deems valuable)?
We'll certainly entertain an offer should they put one forward. But that also doesn't preclude us from entertaining offers from other interested parties.