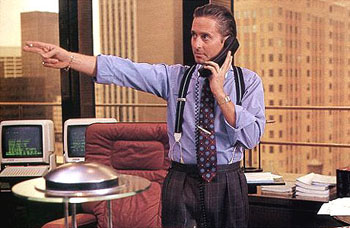 Nikki Finke claims that Wall Street 2 is in the works, with Michael Douglas returning as Gordon Gekko and Shia LaBeouf purportedly in negotiations to co-star. The news was also reported by The Telegraph and the Hollywood Reporter back in April.
I called Bryan Lourd's office — Lourd is Oliver Stone's agent — but Lourd's assistant could neither confirm nor deny with me that Wall Street 2 was actually happening. Calls to Oliver Stone's publicist were not returned.
I contacted Melissa Kates's office by telephone and email. Kates's office, who handles LaBeouf's publicity, could not tell me anything over the phone. Emails have not yet been returned.
Efforts to reach individuals representing Michael Douglas were unsuccessful.
The project seems to be happening, but nobody seems to be talking to anyone other than Finke.