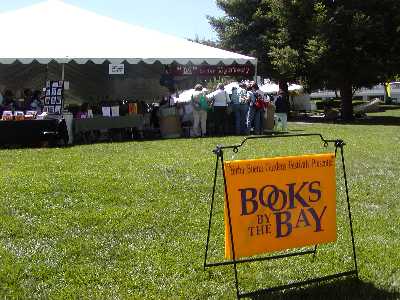 It's a remarkably sunny day here in the City. I got to Yerba Buena Gardens a little later than expected, but fortunately with enough time to chat a bit with Kevin Smokler just before he had to rush from the end of his panel to an autograph signing. Adam Johnson, mysteriously enough, was nowhere to be found.
So far, I've taken some notes for a panel and a half and I've chatted a bit with some of my favorite independent booksellers, who are hawking their goods under the tent. Unfortunately, turnout here wasn't nearly as large as I had expected (and certainly not as gargantuan as previous years). We're talking somewhere in the area of a few hundred. But the afternoon is only just starting and I haven't yet ventured into the Yerba Buena theatre to see what the crowd's like in there.
Interestingly enough, I saw a man who looked suspiciously like William T. Vollmann from far away. I approached him, hoping to interview him on the fly about the recent bombings in Egypt and London. But sadly when approaching him ten or fifteen feet away, I saw that he was not, in fact, William T. Vollmann, but a solitary thirtysomething dressed in a Hawaiian shirt. And really, would Vollmann be the type who wore Hawaiian shirts?
In any event, I will try for another update later in the day. But this laptop is dying, even though there are copious wireless connections around. (I'm typing right now from the lawn.)
If you want to say hello, I'm wearing a green striped shirt and (believe it or not) shorts. Look for the guy with the buzz cut, glasses, and technology strapped to his body.