Here. These were, of course, kept secret from the public. Disgusting. Definitely NSFW. I'm ashamed to be American. And I think I'm going to roll into a ball. Because if these photos don't get America horrified, I don't know what will.
NPR, of course, is silent about these images this morning.
I'm looking at CNN's website and there's a tiny link to the right when this should be the top story.
Nothing at the Washington Post or the New York Times. Or even my hometown paper, the San Francisco Chronicle.
In short, the American media is thoroughly bought and paid for at a time when Americans absolutely need to bear witness to the inhumane and cruel actions that Americans — yes, that would be us — have inflicted upon the Iraqi people. They need to understand that these images were kept from them by a government all too determined to "protect" them from the knowledge that war is well beyond hell.
I can't imagine what kind of atavistic asshole you have to be to turn away and ignore these images and walk into work with that bullshit skip in your stride, that Starbucks cup in your hand, and say to yourself just how great it is to be an American.
[UPDATE: Transcript from Australian news program containing more details on the video and link to video itself. Utterly atavistic. (Thanks for the lead, Tayari!)]
[UPDATE 2: Brian Sawyer writes in to note that the images are now the front-page story on CNN and Google News. The San Francisco Chronicle? A Valentine's Day pillow fight at the Ferry Building is apparently more important than these new photos. See screenshot below.]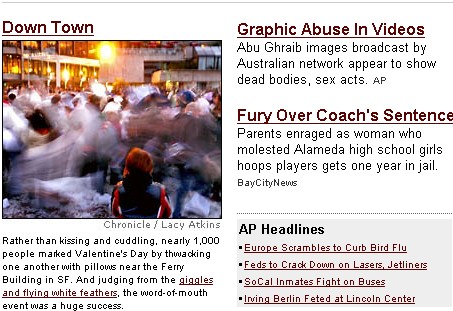 © 2006, Edward Champion. All rights reserved.