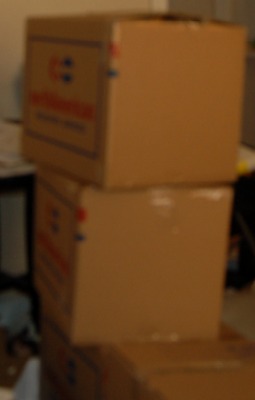 PLEASE PLEASE PLEASE do not send me any books to any San Francisco addresses you have for me. I am now in the painful process of ruthlessly scaling down my books to a handful of boxes, feeling a bit like Sophie or Schindler and sobbing to friends on the phone and trying to remind myself that I can get new books.
What are you talking about? That book was purchased at the old Chelsea Books store on Irving Street, and was the subject of a forty-five minute cafe conversation with that girl you briefly dated in 1999. Thus, it has sentimental value! Boy, you thought you were pretty hot shit back then!
Shut up! The past is the past! Why would I read that book again? And what does 1999 have anything to do with it?
Yup, it's pretty much like that around here these days.
So if I received your book in the last few weeks, I'm sorry. Can't look at it. Can't even pack it.
Please use the new Brooklyn address at the right for any and all ARCs or galleys.
Now if you'll excuse me, I'm going to tear my hair out over prioritizing W. Somerset Maugham over Sinclair Lewis.
You never would have done that in 1999!
Shut up, neurotic bastard! Go away and worry about Iran's nuclear arsenal or something. This is hard enough without your interruptions!