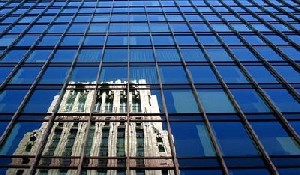 Local photographer Thomas Hawk was harassed by security goons when taking photographs of One Bush Street:
Yesterday I was shooting some photos of One Bush St. (the building where Bush and Market Streets intersect) when their security guard came out of his little glass jewelbox lobby hut to ask me to stop taking photos of the building. He said it was illegal. I moved to the sidewalk and continued taking photos and he again asked me to stop. When I told him I was on a public street sidewalk he said that actually they owned the sidewalk and that I was going to have to stop taking photographs.
The security guard then followed Hawk as he took various photos of the building on the public sidewalk.
This saga, however, is far from over. It seems that another guy is holding a contest for a variety of One Bush Street photos. Mat Honan will give the winner a $10 iTunes certificate. Word on the street that a litany of photographers will be meeting this Saturday at high noon to take several photographs of the One Bush Street building.
I'm going to try and be there myself. Failing that, I plan to introduce a new weekly feature to Return of the Reluctant: the One Bush Street Photo of the Week. Photos will be appearing on these pages every week until this ridiculous enforcement is waived in its entirety.
Taking a photograph of a building is neither a terrorist act nor a copyright infringement. The time has come to take a stand against this irrational fear and unreasonable (if not outright illegal) prohibition. I urge anyone with a camera in San Francisco to exercise their rights to free expression and snap a photo, if you happen to be in the Financial District.
(via SFist)