Here's a question: Why is Paul Alexander's notorious hit piece on Mark Helprin, which appeared in the April 21, 1991 issue of New York Times Magazine under the title "Big Books, Tall Tales," unavailable online? Not even as a paid reading option? Has Paul Alexander single-handedly managed to purge all known forms of his article? Or does he not wish to remain accountable for his own gossip-mongering?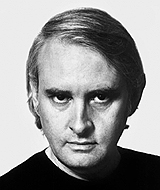 For those who don't know the history, Paul Alexander called into question many of Helprin's answers about his own life, smearing Helprin for being a Reaganite and an opportunist, and finding fault within Helprin's myth-making. What any of this ever had to do with Helprin's achievements as a fiction writer remains a mystery.
Of course, Alexander's books remain available for any who wish to observe his Kitty Kellyesque approach to biography. Alexander called publishers "a whole industry of cowards," because Doubleday didn't print his J.D. Salinger biography, which dealt predominantly with Salinger's notches on the bedpost. Doubleday's Stuart Applebaum responded by declaring that "the first draft was not substantive" and the book was then printed by Renaissance Books. Before this, Alexander demonstrated his cultural priorities by writing a James Dean biography, Boulevard of Broken Dreams, speculating over whether or not Dean was gay: truly the kind of in-depth and nuanced material worthy of Lytton Strachey or Blake Bailey. As Ilene Cooper observed of Alexander's book in a review for Booklist:
Contradictory evidence, like Dean's romance with actress Pier Angelli–considered by many to be the love his life–gets perfunctory treatment: ". . . the affair developed so quickly it would be hard to imagine that the love was lasting or substantial." That clears the way neatly for Alexander's conclusion: "James Dean used this sense of angst, caused by his inability to live the life he wanted to lead, to spur him on as he relentlessly pushed the boundaries of his art." Well, maybe, but by Alexander's reckoning, Dean didn't suffer from all that much repression, despite living in a 1950s closet. The point about revealing the secret sexual histories of dead celebrities, after all, isn't to prove the case as much as to raise a ruckus. Alexander ought to do just fine.
After a few years at radio, Alexander than turned to film, turning out Brothers in Arms, a partisan documentary that offered a response to the false John Kerry Swift Boat allegations (although the film was made before the 2004 ballyhoo). When Sinclair Broadcasting planned to air the anti-Kerry documentary Stolen Honor to 62 television stations, Alexander boasted , "My argument is if they're going to air 'Stolen Honor' then they should run my film, and preferably in the hour right after it. I'm sending them a letter tomorrow demanding that."
But was Alexander's documentary really portraying John Kerry in a true light? After all, Kerry was a pro-war candidate. As Alexander Cockburn observed, pointing to the use of Alexander's film at events as one example of saving face, "No deed or slur is too dirty for the Kerrycrats, in their frenzy to have a Democrat back in the White House. In years to come the list of liberals and leftists renouncing their support of Nader in 2000 and urging support this time for Kerry even in safe states will, I think, be correctly brandished as a shameful advertisement of political hysteria and even prostitution (often enforced by big foundations threatening to cut funding from any outfit not bending the knee to Kerry.)"
The real question here is whether any of Alexander's posturing was truly journalistic. Or was the myth-making that Alexander accused Helprin of more applicable to Alexander himself?