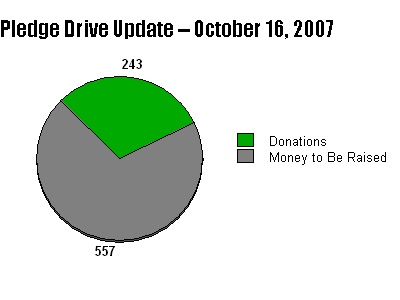 Here's where we're at. $243 has been raised so far — a little more than 30% of the goal.
Many thanks to everyone who was kind enough to contribute today. I will keep the donors' names anonymous out of respect for their privacy. But for everyone who has donated $10 or more, they will receive a copy of the special Segundo Chapbook sometime in late November. Again, all we're shooting for here is $800. So if you've appreciated The Bat Segundo Show and want to see it flourish through the remainder of the year, please take some time to contribute.
The deal is this: if we can generate $600 before the end of this week, I'll keep the pledge drive going through next week until we hit past $800. If we can make this happen, this should permit me to carry forth with the interviews. (And for those who have emailed your concerns about what I will do in lieu of this cash, don't worry. I have several backup plans now in the works.)
Thanks again.