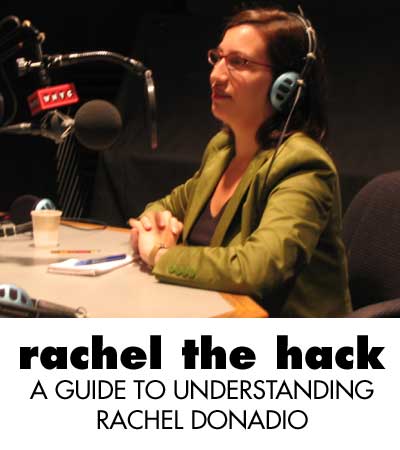 It's time for a new installment of Rachel the Hack, an essential guide to understanding Ms. Donadio's warblings. This week, Donadio can be found in the New York Times Magazine section for a piece on post-apartheid fiction. Donadio begins by telling us that author Niq Mhlongo is "one of the most high-spirited and irreverent new voices of South Africa's post-apartheid literary scene," but it takes Donadio three more paragraphs to provide a paragraph that corresponds to this topic sentence. We learn that Mhlongo writes "with verve and candor about the anxieties of his demographic." But is Mhlongo really writing for a demographic? And is "demographic" really a word one should use in relation to rugged fiction? Maybe this applies if you're a marketing manager without a sense of compassion, but it's certainly not a noun that applies if you truly give a damn about literature.
But let's consider this taxonomic measure. If I were hard-pressed to cite a demographic for Donadio's work, it would probably be marketing managers, perhaps those who cite liberalism as a CV-enhancing "interest." If this is the case, then it's a telling sign that Donadio focuses on Mhlongo's BlackBerry as opposed to the animated way he answers Donadio's questions. Or that South Africa's tourist-friendly landmarks (bed-and-breakfasts, KFC, Johannesurg's shopping malls, et al.) are prioritized over those cute and cuddly brown-skinned people known to pen a noble book or two in a post-apartheid environment.
To be fair, Donadio does chronicle corruption early on and does yield a few observations on post-apartheid racism and how Mhlongo's book deals with it. But who knew that the 1996 Constitution was capable of vocal communication? (The correct verb when dealing with the printed word is "state," not "say." And Donadio's the one who insists we're sub-literary.)
Donadio also notes that, presently, few books "create a national conversation" in South Africa. But then one can argue that this is also the case here in the States. And yet this apparent "conversation" has shifted "toward the search for the great black South African novelist." Wait a minute. I thought the conversation wasn't really happening. So how is Donadio gauging this? Well, apparently, it's about "the national and international spotlight." But where is this Kleig light coming from exactly? Typical of Donadio, you'll be hard-pressed to find any information which tracks this waning and waxing conversation. But since Donadio hasn't even bothered to reveal how resistance to apartheid served as a literary muse through such awards as the Amstel Playwright of the Year award, which encouraged anti-apartheid playwrights through 1994, and the many poets who responded through verse, the article relies too much on general quotes that stop short of examining this fascinating issue.
At least Donadio reveals, through a citation from Shaun de Waal, that the South African literati has grown tired of hearing the question of where the black writers are. But it's a shame that her own article strikes this same nauseous note.
Donadio also suggests that the emerging generation of South African writers are "no longer fueled by rage." Really? An economic and racial divide replacing an apartheid one, the implied gentrification in the article's early paragraphs, and the possible lack of national conversation (on this point, we cannot be sure), and there's absolutely nothing to be enraged about? It's certainly telling that this lovely little generalization comes without a single supporting quote, but it's even more telling how this reveals Donadio's naivete about social and political developments. Obviously Donadio hasn't read Antjie Krog's Country of My Skull or Desmond Tutu's No Future Without Forgiveness.
Donadio does score minor points for revealing Zakes Mda's frustrations about fiction's inability to discuss all the issues occurring in South Africa and Norman Rush's failure to parse this in a review of Mda's book. But she doesn't investigate this issue any thoroughly beyond Mda's resentment, particularly when he brings up the critical double-standard which applies to Coetzee.
Donadio's article is a slipshod primer that misses many opportunities to investigate many angles of a fascinating topic. It is designed to be clipped to a refrigerator rather than leave you thinking.