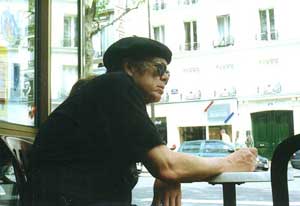 Transcriptease offers a very helpful summation on the racist shenanigans of Helix editor William Sanders. For those who missed out on this piece of news, writer Luke Jackson sent Sanders a story. The story featured Muslim characters. Sanders rejected it, noting in his rejection letter, "You did a good job of explaining the worm-brained mentality of those people." The email then made the rounds on several science fiction sites. And several Helix contributors asked for their stories to be removed from the Helix archives.
Rather than perform the gentlemanly act and apologize for his mistake, Sanders issued an ultimatum to his contributors. If they wished to remove their stories from the archive and did not express their wish to do so within a month, they would be forced to pay $40 to have it removed later. Soon, Sanders retracted this offer and declared that nobody could have their stories removed at all.
Assuming that there is no written instrument, Sanders is in no position to make such demands of his contributors.
The question that nobody has asked here is whether any of the Helix contributors ever signed a contract or another written instrument upon having their stories appear in Helix. Sanders's magazine lists all of the contents as falling under the copyright of Helix. This itself is fallacious, because according to Helix's website, Helix is published by the Legends Group, which is described as an unincorporated association. Since Helix is based in Maryland, according to the Maryland Business Regulation Code, § 19-201, it can therefore be described as an organization. Therefore, if the copyright notice on the site is valid, should not the copyright read "©2008 The Legends Group" instead? And if The Legends Group has performed due diligence, then surely this would be reflected at the Register of Copyrights, right? After all, § 409 of United States Code, Title 17, states that each application for copyright must contain "(10) in the case of a published work containing material of which copies are required by section 601 to be manufactured in the United States, the names of the persons or organizations who performed the processes specified by subsection (c) of section 601 with."
But over at the Library of Congress's public catalog, we discover no such notices for these stories by either Helix, The Legends Group, or William Sanders. Searches for "Legends Group" and "The Legends Group" reveal no registered copyrights. And searches for "Helix" or "Sanders William" do not match up with any of the stories listed on the Helix site.
If the Helix contributors simply sent in their stories into Sanders and he agreed to publish them, and there was no contract, then this means that they retain the unregistered copyrights for their stories, and Sanders is in violation. If Sanders did not have a written instrument in place specifying that there was a transfer of copyright to Helix, then the copyright belongs to the author. Which would mean that the author controls whether or not the story appears on the website. To cite the specific code section under §204 of Title 17:
(a) A transfer of copyright ownership, other than by operation of law, is not valid unless an instrument of conveyance, or a note or memorandum of the transfer, is in writing and signed by the owner of the rights conveyed or such owner's duly authorized agent.
Of course, to uphold Sanders's numerous copyright violations, the stories would need to be registered. If the writers who wish to have their stories removed from Helix were to register their stories with the Copyright Office, then Sanders be in clear violation of copyright and damages could be pursued.
Either way, Sanders does not come out of this looking well at all. The best thing for him to do is to remove any stories that authors wish for him to remove. And if Sanders cannot perform this basic courtesy, then the writers have the obligation to register their stories with the Copyright Office and take up the dispute in court to collect the dutiful damages that come from being associated with a racist editor.