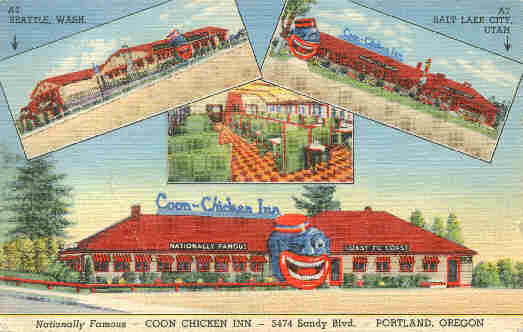 Here's one of the more disheartening and rarely discussed moments in American cultural history: A restaurant chain called Coon Chicken Inn, alluded to in the films Ghost World and C.S.A., actually existed between the 1920s and the 1950s. Diners would enter through the doors of a ghastly racist caricature. It was one of Portland's most popular restaurants, in part because there was a small African American population in Portland and in part because the food was cheap.
The restaurant chain was opened by Maxon Lester Graham and Graham's descendants has issued a wholesale disapproval of the Coon Chicken Inn. This descendant reports that the racist logo was on every dish, piece of silverware, menu and paper product.
Interestingly, a few weeks ago, the Oregonian reported that the former Coon Chicken Inn has been purchased by an African American man named Ernest Clyde Jenkins III.
While Coon Chicken is now gone, it was by no means the only racist American restaurant. If you visit Santa Barbara, you can find the original Sambo's restaurant, based on Helen Bannerman's racist children's book, The Story of Little Black Sambo. There were once as many as 1,200 outlets. Now there is one. Says restaurant critic John Dickson, "So when are you going to go nationwide AGAIN?" Presumably, Mr. Dickson is also fond of golliwoggs.