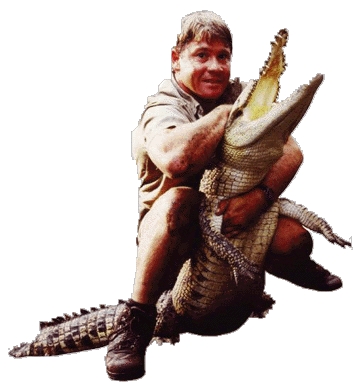 Steve Irwin has died. He was 44. He died while filiming a segment for a documentary. Unfortunately, while diving in the Batt Reef, he was stung by a stingray and died before medical authorities could arrive in time.
Irwin escaped death more times than any mere mortal should. And yet there was something inherent within his charisma and character which suggested, nay demanded, that he could not and should not die. Not long ago, Irwin dared to carry his month-old son into a den of crocodiles under one arm while tossing meat to a croc with the other. It pissed people off. But it confirmed in my mind that Irwin, more than anything else, was insane. On the flip side, this insanity also translated into a ferocious boosterism of Australia and vociferous protests against hunting. Irwin reminded us that we were part of the food chain and I suppose, with his last stroke, proved just how dangerous getting closer to that role could be.
The world, in its own strange way, needed a guy like Steve Irwin, however vigorously self-promoted, if only to remind the human race that, no matter how picayune or crazed your interests, it's worth getting excited about. It's worth it to sometimes leap into the deep end. It's worth it because nobody else out there will.