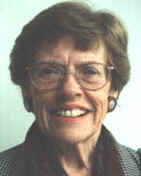 Former San Francisco Sue Bierman died today. She apparently crashed her car into a dumpster in Cole Valley. Bierman was always one of my favorite supervisors and I certainly missed her when term limitations forced her out of office. Now I'll miss her even more.
While she got a late start in politics (she was 68 when she first became Supervisor), Bierman brought a compassionate touch and a wise, no-bullshit voice of skepticism to almost every issue she took on. It was Bierman who stopped the freeway from expanding into the Panhandle.
Bierman offered a progressive voice that was distinctly San Franciscan: tolerant, quirky, and independent. She frequently adopted interesting and controversial positions, such as voting against an alcohol ban in the Panhandle, arguing that the homeless should have a place to drink alcohol as the homeowners did. (The only other supe to vote against the ban was Ammiano.) She even passionately defended the rights of the petitioners to reinstate the former Doggie Diner restaurant as a landmark.
I'll miss Bierman, one of the few local politicians I never got a chance to meet. But her run as Supervisor through the 90s is a clear reminder that it's never too late to get involved in politics.
(via SFist)