Languagehat unearths a hilarious online expose involving Sam Tanenhaus's failure to dictate to the masses. It seems that Tanenhaus attempted to strong-arm his readership into loving the Richard Peevar and Larissa Volokhonsky translation of War and Peace and his readers, begging to differ, express their preference for other translations. Peevar then shows up, defends his translation, is then humiliated, and then comes back again with a whiny defensive rejoinder. And Sammy Boy just can't stand it! How dare the readers think for themselves? How dare they fail to recognize the Grand Importance of the New York Times Book Review?
Needless to say, I don't have to analyze this week's issue or dig up the Brownie Watch to tell you that this kind of hubris from Tanenhaus, his inability to listen to readers and his colossal misunderstanding of dissent among the blogosphere, deserves no brownies.
No brownies for you, Sam! Not this week, or for the next four weeks! Maybe if you considered that the people who read the New York Times actually have brains inside their heads, you might do better.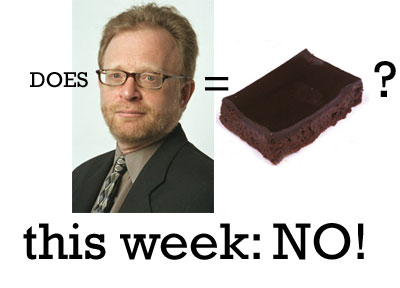 (Thanks, Kári!)