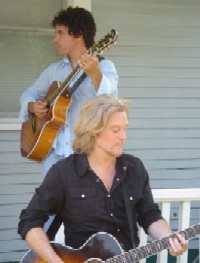 If you are of a certain age, you will recall that, a few decades ago, Hall & Oates rose mercilessly to prominence, invading the airwaves as the equally disgraceful Captain & Tenille waned (proving that the music industry always has room for at least one abject duo). If, like me, you harbored any hopes that their careers were over for good, it is my sad duty to report that, like Glenn Close emerging from the bathtub, Hall & Oates are touring again. Inexplicably, most of their tour runs through Canada. This mystifes me, as I thought that Godspeed You! Black Emperor, Wolf Parade, the Unicorns, and the Arcade Fire were proof positive that Canadian music lovers had certain standards. Apparently not.
Or perhaps it is Hall & Oates who believe that their climb back into the hearts of those who hold onto their LPs of Huey Lewis, late Genesis and Eddie Money with a brio comparable to Franklin Mint plate collectors will be a smooth and steady one, with Ontario's cool winds sailing south through Toronto into the unquestioning reception of East Coast listeners looking for bland and inoffensive music. Consider Daryl Hall's words of wisdom:
"I think a lot of people have different ideas about our origins and our purpose, and what makes us tick musically. So I thought, 'OK, once and for all, I'm going to define it. And we're going to go out there and show where we came from and who we are.' "
I think it's safe to say that anyone who hears the lines "I can't go for being twice as nice / I can't go for just repeating the same old lines / Use the body now you want my soul / Oo forgot about it say no go" knows exactly what they're in for. That Hall & Oates made millions with such lines is criminal, but that they couldn't even spend ten bucks on a rhyming dictionary is unpardonable.
Perhaps we should just be grateful that John Oates shaved off that silly moustache.