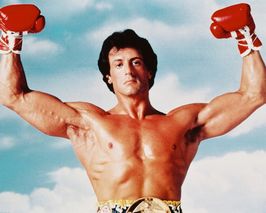 Sure, you could ask Sam Tanenhaus your questions and watch him ignore any query even remotely critical of the NYTBR. (Tanenhaus, incidentally, has refused mutlple interview requests to appear on The Bat Segundo Show to clarify some of the charges that have appeared on these pages.)
But why do that when a former box office titan is cheerily answering everything (and I do mean everything)? Everything from whether Rhinestone or Stop or My Mom Will Shoot! is his worst movie to his revelation that Dolly Parton is the ultimate woman.
From The Dizzies, comes a series of bizarre links to Ain't It Cool News. Apparently, Sylvester Stallone took it upon himself to answer just about every question that was asked of him. From Dolly Parton to the use of three seashells. I even suspect that if I sent Stallone a package of brownies, he'd actually send a thank you note. Which is more than we can say for Sam "We Take No Chances" Tanenhaus.
Here are the links to Stallone's ongoing Q&A:
Round 1
Round 2
Round 3
Round 4
Round 5
Round 6
Round 7
Round 8
Round 9