Shortly after the stroke of midnight, the last spasms of hate and homophobia flooded through a nasty man's body. Or, to put it another way, Andrew Breitbart died of natural causes.
Breitbart was a malicious pontificator who liked to run websites which featured the word "big" — the three letter modifier existing in counterpoint to Breitbart's small and shallow ideas. Big Hollywood, Big Government, Big Journalism, Big Peace. It was all bright and doddering fodder for Breitbart, who spent much of his career desperately seeking legitimacy from a mainstream media that enjoyed quietly pissing into his face. This was the only way to treat a man who was so subsumed with venom that, on the day Ted Kennedy died, Breitbart called him a "villain," a "duplicitous bastard," and a "prick." This Tourette's-like bile was appealing to a certain type of aggrieved and angry white male seeking a myopic demagogue during a time of political and economic uncertainty. Andrew Breitbart wasn't terribly special. Yet if Breitbart did not exist, it would be necessary for Grover Norquist to create him.
The most frightening facet about Breitbart is that so many people believed in him. Did Breitbart ever have a nice thing to say about anybody? Why, yes. To Matt Drudge, the very man he sought to emulate. He liked to refer to himself as "Matt Drudge's bitch."
"I thought what he was doing was by far the coolest thing on the Internet. And I still do," said Breitbart in a 2005 CNET interview. Yet Breitbart seemed confused about what real journalism entailed. "I guess I do a lot of new media," said Breitbart during a 2009 C-SPAN appearance. "I have a website. Breitbart.com. Which is a news aggregation source. In all the years I've been on the Internet, all I've heard about is newswires. I figured out that that's where the action is. When you watch CNN and FOX News, and somebody breaks in with a story and they act like somebody in that building actually discovered that story and reported on that story."
Through such painfully simplistic observations, Breitbart erected a one man media empire devoted to loud eructations. He savaged political careers with unmitigated deception and selective editing — most notably, Anthony Weiner and Shirley Sherrod. With Sherrod, you could almost hear the self-satisfied swish of Breitbart hoisting his own private Confederate flag up a proud pole. In 2010, Breitbart posted two video clips of Sherrod, who was then the Georgia State Director of Rural Development for the United States Department of Agriculture.
The videos suggested that Sherrod had deliberately discriminated against a white farmer. Breitbart seized upon this apparent smoking gun with a theatrical glee comparable to William Shatner's performance in Roger Corman's The Intruder as a speaker who moves from town to town stirring up bigotry through lies. "Sherrod's racist tale," wrote Breitbart, "is received by the NAACP audience with nodding approval and murmurs of recognition and agreement. Hardly the behavior of the group now holding itself up as the supreme judge of another groups' racial tolerance." The controversy forced Sherrod to resign. Yet the full video and the timeline reconstructed by Media Matters demonstrated that Sherrod was offering a far more complex take on race. The NAACP, White House officials, and the Secretary for Agriculture were forced to apologize with considerable embarrassment.
How could such a louche loudmouth, who enjoyed marinating his racism in the stew of libertarian entitlement, be taken so seriously? Because FOX News had him on all the time and because outfits funded in part by Richard Mellon Scaife were fond of giving Breitbart dubious honors such as the Accuracy in Media Award.
Yet when confronted with serious questions about what Breitbart's "accuracy" entailed, Breitbert preferred fuming to reason. When James O'Keefe, the young man whose selective editing and faux undercover videos helped give one of Breitbart's websites a big start, was revealed to be a racist and a white nationalist, Breitbart demonstrated that he wasn't quite so courageous when it came to confronting the truth.
Journalist Max Blumenthal calmly asked Breitbart at the very same conference where he received the Accuracy in Media Award about all this. Breitbart fulminated back, "Accusing a person of racism is the worst thing that you can do in this country."
Breitbart could not see the irony in his own remarks.
"Why are you so angry?" asked Blumenthal later in the video.
"Because you're a punk!" sneered Breitbart. "You destroy people! Because you're trying to destroy people's lives through innuendo."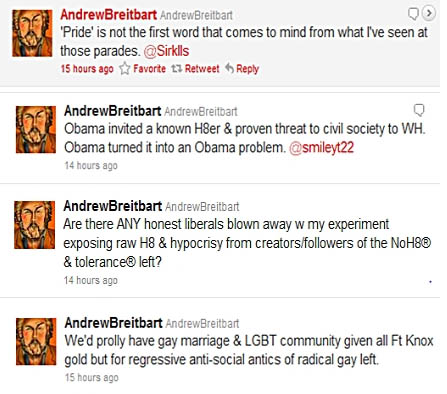 Breitbart was so guided by deranged mania, so without reconsideration or nuance, that his unhinged homophobia would flow like an alcoholic's stool sample from his Twitter account over the slightest emotion. When Dan Savage made a foolish remark on Real Time with Bill Maher and later apologized for it, Breitbart resorted again to his tired tactic of accusing the other side of the very thing he was practicing.
When he was dumped from ABC Election Night coverage in 2010, you almost wanted to send him a sympathetic fruit basket or a plate of fresh cookies. You figured that something would have to calm the man down — especially since the elephants couldn't use the tranquilizer gun to put down one of their own. But then Breitbart would work himself into a lather and accuse the people who canned him of cowardice. And you realized he was beyond repair.
The American political kitchen is filled with pots that are fond of calling the kettles black. The American right is populated with leaders who not only refuse to compromise, but who refuse to understand that the beloved Republicans who came before them were forced to compromise to get things done. Andrew Breitbart represented the worst of them. Yet even as I write these words, this baleful pox is being lionized rather than lambasted, fondly remembered rather than coldly resented, even vaguely considered as a hero by the mainstream outlets. These lamentable results represent the nadir of present-day politics, but they also reveal why a gutless political fool placing bullying and spite before reason and might should be thoroughly denounced.