J. Robert Lennon appeared on The Bat Segundo Show #300.
J. Robert Lennon is most recently the author of Castle and Pieces for the Left Hand.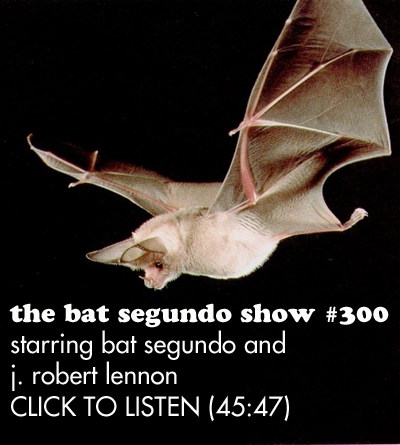 Condition of Mr. Segundo: Contemplating his surprising longevity after 300 shows.
Author: J. Robert Lennon
Subjects Discussed: Ending sentences with nouns, how location affects character description, objects and places as the territory of a story, how the land in upstate New York inspires narrative, objects that regular readers can relate to, lost childhood, lost parents, more isolated characters in Lennon's later novels, meals in fiction, antipodean metaphors within Castle, working with a narrative juxtaposed against a cultural-historical symmetry, Stanley Milgram, Vietnam and Iraq, whether Loesch's actions are exonerated by historical injustice, the white symbols and black redaction throughout Castle, cutting down on pre-planning novels and trusting the subconscious, whether we'll ever see the full version of Happyland, restarting a writing career multiple times, dealing with marketing forces, accessibility, Stewart O'Nan, New York publishing biases against small towns, the unexpected American publication of Pieces for the Left Hand, how naps permitted Lennon to finish Pieces for the Left Hand, relying on anecdotal culture for narrative, long thin environments within Lennon's novels, survivalist novels written in dark, evil writing labs, the "gray"/"grey" controversy, and batty character surnames close to specific words.
EXCERPT FROM SHOW: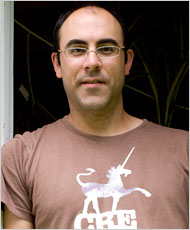 Correspondent: You seem to veer between these really lonely tales and these outright satirical tales. After the whole incident where your novel got serialized at Harper's, I'm curious if there's some hesitancy on your part to pursue satire. Is that why Castle's so dark?
Lennon: No, no, no.
Correspondent: Why bounce around tonally?
Lennon: I had written Mailman and Happyland in sequence. I was in that antic black comic mode for a while. Which I think is kind of my default mode. I like to think that I go away from it for a few books. I do something very different. And then, whatever I learn there, I bring it into default mode. I mean, right now, I'm writing a book that has a large cast of characters with some manic satirical elements. And, in fact, it's a family book. Except it's the opposite of the other family books. It's not that family members are missing. It's that there are too many of them. It's a big ad hoc family that has come together in spite of the unlikelihood of that happening.
Correspondent: It's interesting. Because I thought you were going to give me the James Ellroy line for this book.
Lennon: Oh?
Correspondent: You know how he says, "It's fun for the whole family…if you're the Manson family." He does this every time he sells a book.
Lennon: (laughs)
Correspondent: But I mean, that's interesting. I should also point out with Eric, there is nevertheless a strange absurdism to his need for having things in place. And, in fact, and I'm sorry to just throw a bunch of things at you at once, I wanted to ask about the two meals he eats, which are essentially bipolar. You have this really greasy cheeseburger. And then he goes and he eats this vegetarian meal. So it's almost as if his choices are reflective of not being able to fit into the middle of these two antipodean ends. And I'm curious how much this was a part of devising the character. Having specific locative places like this that he couldn't inhabit. The middle ground.
Lennon: Well, I think the problem with him is that he can't inhabit the world. And I wanted to have a scene with him twice, where he had to go and eat something, and he would take that opportunity to sit and think about things for a few minutes. And it occurs to me, "Where does this guy eat?" He's so abstract. He's so detached from human life — or this is how he presents himself anyway — that the notion of him eating a cheeseburger is just ridiculous. And it was only later I realized, there's nothing I could have him eat that would seem right. Because he's not the kind of person that goes to a restaurant. He's the kind of person that exists in this sort of dark, violent abstraction as a dark, violent abstraction. I mean, this isn't an explicitly comic book by any stretch, but I found these scenes to be kind of funny to write. I mean, he's at the Vegan place!
Correspondent: Well, there's also this notion too of him fixing the renovations on his house under time, which is interesting in light of the fact that you do mention Iraq in this book. And, of course, Iraq has no timetable. So I'm curious again about these points of disparity throughout the book. How many of these were designed along these lines? There's also the symmetry, of course, of his very predicament. Here he is. Something terrible has happened to him. And he, in turn, has become someone who has done something terrible as well. So I'm curious. At what point during the conception or the writing of this novel were you aware? Or did you design such symmetry?
Lennon: The Iraq thing came first. And it was only after my wife was reading an article in Weird NJ — the magazine — about a guy who finds a castle in the woods while walking through the woods that it occurred to me that this should be the setting for this book that I had in mind. Like she was the one who told me that that was the setting for the book I had in mind.
Correspondent: Really?
Lennon: Yeah, and when I started thinking about this guy, I was reading a lot of Kazuo Ishiguro. You know, how his narrators are — they're liars really. Nothing dishonest, but they're creating a reality for themselves that's appealing to them. They're justifying their actions. They're justifying the things that are happening around them in a very self-serving way. I'm just going to write a first-person narrative like that. Not unreliable, per se. But it's the sound of a guy who's done something wrong convincing himself that there isn't any ambiguity about it.
BSS #300: J. Robert Lennon (Download MP3)
This text will be replaced