Brent Spiner appeared on The Bat Segundo Show #233. Spiner is most recently a producer and performer on the album, Dreamland.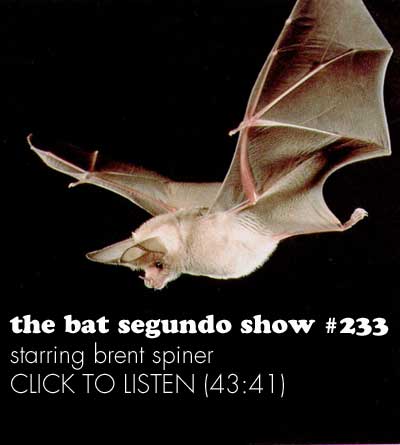 Condition of Mr. Segundo: Ducking his head and dodging paranoid crooners.
Guest: Brent Spiner
Subjects Discussed: Natural reverb, conversational limitations, co-owning a recording studio with Dave Way, being a control freak, the shaky profitability of the music industry, self-distributing a CD through Bellarama, David Byrne's DIY article, the lack of response from magazines and newspapers vs. the response from blogs and online sites, being restricted by self-production, the distribution for Ol' Yellow Eyes is Back, getting mechanical rights for the songs, merging "I Love You" with "Nice and Easy," the difficulties of getting Cole Porter's "Let's Fall in Love," DJ Giagni, tap dancing and footfalls, sound effects, maracas that appear on the left speaker, arguments for and against the older man-younger woman musical trope, certain elements that are holding back Dreamland from being transposed to a live performance, the belting quality of Spiner's voice, wrestling, Spiner's extraordinary claims as an opera singer, Mark Hamill as a figure to help smooth over the rancor between two popular science fiction franchises, growing up in Houston, the demolition of the Shamrock Hilton in June 1987, Cecil Pickett and the brothers Quaid, Randy Quaid and Actors' Equity, Spiner's complex feelings for Rutger Hauer, Hauer and Whoopi Goldberg, taking umbrage with YouTube commenters, working with Maude Maggart, signing on for a six-year contract for a show that rhymes with "car wreck," committing to a project without knowing when it will end, Threshold, negotiating the limitations of television, the relationship between art vs. commerce, why Spiner moved to Los Angeles, Superhero Movie, living like a college student vs. an adult lifestyle, and the trappings and consistent struggles of being an actor.
EXCERPT FROM SHOW: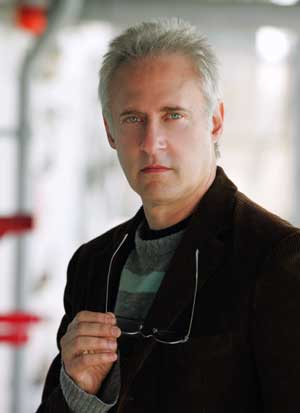 Correspondent: I should observe that you grew up in Houston.
Spiner: Yes.
Correspondent: Of course, for a long time, the Shamrock Hilton was there.
Spiner: Right.
Correspondent: And what is rather unusual is that it was demolished in June 1987, which almost exactly coincides with your big break on the show that shall not be named. I was wondering if you ever contemplated this connection, and whether the hotel [in Dreamland] may have jumped out because of this. Why did you choose the hotel? And what of the Shamrock Hilton?
Spiner: You know what, Ed, I'm not sure what the question is really. And I'm not even sure you know what the question is.
Correspondent: No, no, I'm just throwing associations at you.
Spiner: Yeah, you know what?
Correspondent: I figured that you can handle this.
Spiner: Let me say, and I will say the word, I did Star Trek purposefully because of the demise of the Shamrock Hotel.
Correspondent: Yeah. I knew it.
Spiner: There was no other reason that I took that job. When they told me…
Correspondent: …that Houston was dead to you.
Spiner: Yeah, Houston was dead to me once the Shamrock Hilton was gone. But let me just say this. How do you know about the Shamrock Hilton?
Correspondent: I just am curious.
Spiner: Are you from Houston?
Correspondent: No, I'm not. I've never actually been in Texas, aside from, I believe, a layover. But I just knew about it. I knew that big people came through there.
Spiner: Yup. Oh! Please.
Correspondent: And so I figured you hung out there.
Spiner: I did.
Correspondent: When these big people made their way through there.
Spiner: I once saw Mel Torme at the Shamrock.
Correspondent: Really?
Spiner: At the Shamrock pool. Walking fast. And even more importantly, I once saw Jock Mahoney doing chin-ups outside by the Shamrock pool.
Correspondent: Did you talk with these folks when you were there?
Spiner: You know, I didn't. I wish I'd talked to Jock Mahoney, which is another story altogether.
Download BSS #233: Brent Spiner (MP3)
This text will be replaced