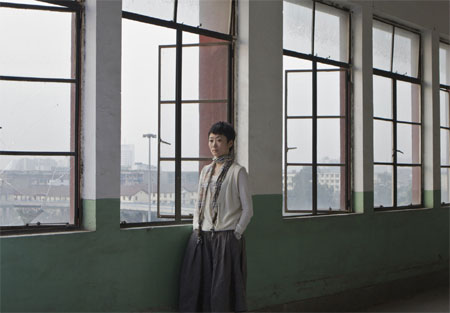 [This is the second part in an open series of reports from the New York Film Festival.]
"Chengdu / Home of the lotus-eating life" — Wan Xia
Chengdu, a city in Southwest China with a population of 10 million and a name translating out to "the country of heaven," was once proud home to an industrial complex called Factory 420, a dry and bureaucratic cognomen that certainly does not translate out to a number lauded by those with certain recreational preferences. The factory employed numerous workers to forge munitions between the 1950s and the 1990s, before being demolished and transformed just recently into luxury apartments. Like the small towns and mid-sized metropolitan areas of America that once relied on military bases and steel mills before cataclysmic economic shifts, Chengdu was likewise dependent on this state-run factory. But Jia Zhangke's documentary, 24 City, which chronicles the dying days before this microcosmic handover, has an altogether different lotus in mind. This is very much a film depicting how the actions of China's government affected those who toiled in the factory in the proud name of the state, and how efforts to live while being left in the cold led to the workers developing unexpected capitalistic instincts. But it juxtaposes these very real figures with actors (such as Joan Chen playing "Little Flower") who portray characters that "fit" within this narrative.
Jia's opening montage sees workers occluded by the great machines, a grey industrial backdrop, and even the bright orange glow of a freshly forged rivet. As the film unfolds, windows in the factory begin to break, landscapes become more dilapidated, pop songs began to replace the melancholy orchestral score, and the film's smooth dolly shots and stationary long takes acquire an indelible connection with the surrounding circumstances that Jia is depicting. In other words, while Jia is questioning how ideology is now changing in China, he's likewise engaging in wry cinematic semiotics. We see a middle-aged man gulp, and then Jia cuts to a swinging light bulb. Has the man hanged himself? No, he's just fine, as we learn a minute later. But he's rattled from being left in the cold by his government.
At times, Jia simply films his subjects standing directly in front of the camera and he often cuts off the sound. The suggestion here is that what we're seeing before us is real. But when one considers how the film itself is tinkering with this reality, one ends up distrusting this film as ardently as the grand authority of the Chinese governmental regime.
Indeed, one of this film's biggest problems is that the actors aren't nearly as compelling as the real people. There's one nearly heartbreaking moment of Hau Lijun, a middle-aged woman describing her life as she sits in the back of a bus. She is let go from her job as a repair worker at 41. No reason other than downsizing. Her chairman tells her that she's never been late to work and that she's never made a mistake. She tells us about a going away dinner at a restaurant with the other sacked workers. Nobody wanted to eat. But she decided to eat just to encourage the others. She has three people to feed. She hangs a banner in her apartment reading, "Come rain, come shine, I must go forward and look for work every day." But nobody will have her. Soon, she's selling contraband flowers. Eventually, she does get a job. Today, she's retired. But she sews for a little money these days because it's something to do. She then tells us, "If you have something to do, you will age more slowly." (And to emphasize this ironic last line, Jia flashes this in text against black, suggesting one of Godard's title cards about Communism.)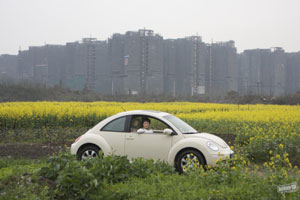 Now how can Joan Chen compete with that? Well, she can't. But then the film's more fabricated "characters" tend to have more problematic ironies going on. We're expected to believe that the still quite attractive Chen is having difficulties finding a man. Her character tells us she's happy being single while she cries. And her character, Little Flower, was named so because she resembled Joan Chen in the 1979 film of the same name. There is also Tao Zhao as Su Na, born in 1982 and employed as a professional shopper for the rich. Her goal is to acquire as much money as possible so that her parents might live in one of the luxury apartments being erected where the former factory was. Her credentials? She is the "daughter of a worker." But she's not just a daughter. She plays one on TV.
Here are the problems with this postmodernist trick: (a) if one objects to it, one is assumed to not be "in on the joke" and therefore not hep to the larger game that the film purports to play, (b) if one chooses to believe in it, then one is duped and the sufferings of the real people are considered trivial, and (c) if one discards it, one dispenses with a part of Jia's elaborate puzzle. The wise cinephile can veer without too much guilt towards option (c) and avoid the ethical dilemma of options (a) and (b), but this then forces us to come to terms with the grand whole of the narrative. If one part does not quite feel true, or is not quite authentic enough, then why is it there?
This type of manipulation is hardly new to documentaries. Perhaps the most infamous early example is Luis Bunel's Land Without Bread, which involved Bunuel shooting a goat so that it could fall off a mountain for the camera. But Bunuel was making a satire — however brutally he employed his efforts. And if 24 City is intended as satire, then it certainly didn't receive a laugh from the screening crowd I was with. (There is, however, a cute moment in which Jia addresses a young girl rollerskating around a patio, suggesting that however troubled Chengdu's future is, there will indeed remain a lotus. But will it be eaten?) And I now wonder if my objections to Jia's film are similar to those who quibbled with Bunuel in 1932.
Can it be then that distance from current events is required to fully appreciate 24 City? I don't think so. The difference between Land Without Bread and 24 City is that the former establishes a tone that holds up through the film while the latter is an ambitious and atonal fusillade that offer several sideways glances about a development now in progress, but doesn't quite have the guts to look at the sham of heaven straight in the face.