Azar Nafisi recently appeared on The Bat Segundo Show #260.
Azar Nafisi is most recently the author of Things I've Been Silent About, as well as Reading Lolita in Tehran.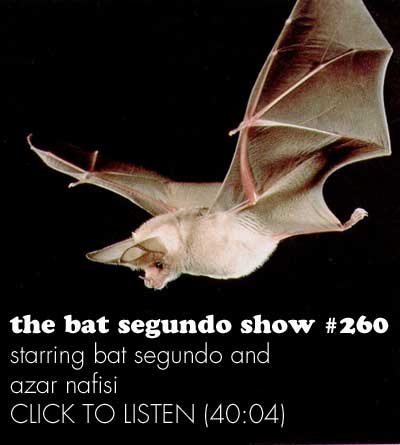 Condition of Mr. Segundo: Reliving transcendent memories.
Author: Azar Nafisi
Subjects Discussed: Authenticity, W.G. Sebald, photographs and text, Iranian birth certificates, being true to the story when writing a memoir, accuracy and memoirs, the extraordinary nature of the ordinary, "A Memoir in Books," constructs within constructs, Emily Dickinson, dreams that are tainted by reality, The Great Gatsby, Nafisi's mother creating a dream out of a frozen past, unhappy marriages, presenting a cardboard version of yourself, frankness, books vs. reality, Dorothy Sayers, Henry James and World War I, asserting life in totalitarianism, Italian neorealists, great things that come from limitations, Samira Makhmalbaf's The Apple, Czslew Milosz vs. Witold Gombrovich, Ferdowski, The Prince, and others as frameworks to understand 20th century Iran, human beings and the creative impulse, writing a book of literary criticism on Nabokov that resonates with the Islamic Republic, prying mothers and outrage, personal connections and subjective viewpoints in relation to books, collection vs. hording in relation to storytelling, feeling regret, the commercial shadow of Reading Lolita, avoiding the Iran categorization, subconscious Nabokovian themes, the memoir as betrayal, Muriel Spark, Speak, Memory, and self-consciousness.
EXCERPT FROM SHOW: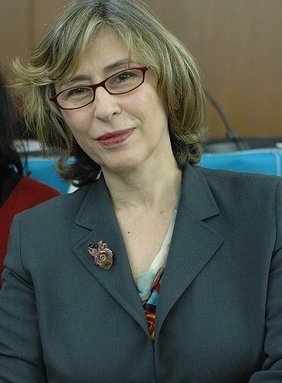 Correspondent: Fariba's birth certificate is fake, you note later on in the book.
Nafisi: Yes.
Correspondent: And also the marriage of your parents was built, as you say, on a lie. So you have this scenario throughout your life in which you have the most authoritative text, being a birth certificate, being unreliable. So this brings me back to the question of the pictures and the text.
Nafisi: Definitely. I mean, authenticity itself is such a dubious word, isn't it? Authentic to whom? And at what point in your life? Authenticity itself changes. But definitely. And especially in regards to my life in Iran and with my mother. The question of what appeared and what people claimed to be real. And what one discovered to be the truth. Those two were running parallel to one another. Seldom meeting, actually.
Correspondent: I guess the question though is: How can you, who specializes in books throughout your life — I mean, that's your living!
Nafisi: (laughs)
Correspondent: So here you have this unreliable relationship with text that your life is predicated upon. How you can even trust text if there is this lack of authenticity?
Nafisi: Well, you have to trust the story. Because if you want the story to be good, quote unquote, you have to be true to the story. And it takes you places where sometimes you don't want to go. It forces you to reveal things that you don't want to reveal. But if you're focused on the story, you realize that the story will take its revenge if you don't give it what it needs. So that is why I think so many authors, or so many people keep saying — like Vita Sackville-West, in terms of her diaries. She says that, "I am writing because of truth. Because there's so many pieces of the truth. And you reveal your truth." It is not because you have hold of the truth, but because the process of storytelling reveals the truth both to you and hopefully to the readers.
Correspondent: Does it matter then if you don't quite have the exact truth? I mean, there's a lot of controversy — here in America, in particular — about what a memoir really should be and how accurate it needs to be.
Nafisi: Well, there's two thins I need to say about that. One is when you deliberately fabricate something. And unfortunately, a lot of times, in terms of the recent events, it is to sell. I tried to very much — actually, the scandalous parts of my book are very much buried. This was a test for me. Can you write a memoir? Which is a family memoir. Which doesn't come out with fireworks. And it can still attract people. Because what is extraordinary to me is what we call the ordinary. You know, nothing is ordinary. That was what I was trying to investigate. So if you deliberately fabricate, I think then that we are entering a different world.
But a memoir, because its a narrative and its a story, by nature, it's a construct. I think we should admit that at the outset. That it is a construct. You try and remain true to facts. But what are facts? From whose point of view? And one thing that I discovered — which is very obvious now to me, but it wasn't then — is how much you select. There were people in my life who were very central to my life. Like my brother, whom I love and we've had many, many experiences together. But he was not necessarily central to the story. So you cut-and-paste, according to the themes that your story demands. And so how can you say that a memoir is not a construct?
(Photo credit: wip_partnership)
BSS #260: Azar Nafisi (Download MP3)
This text will be replaced