Jerzy Skolimowski appeared on The Bat Segundo Show #239. Skolimowski is a filmmaker, and is most recently the director of Four Nights with Anna, which is currently playing at the New York Film Festival.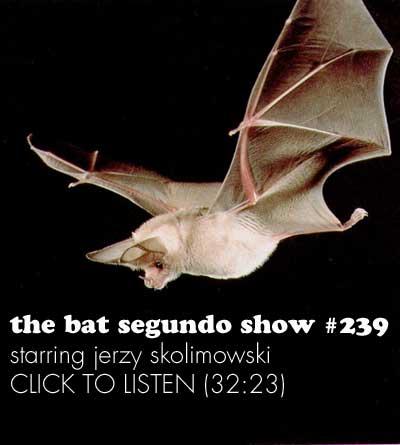 Condition of Mr. Segundo: Waiting for the fifth night.
Guest: Jerzy Skolimowski
Subjects Discussed: Moonlighting (1982), starting from a home to get the lay of the land, the importance of place, how location dictates character motivations, Bruce Hodsdon's observations about Skolimowski's objective-subjective dialectic, the importance of story, Leon's movement in Four Nights with Anna, using sparse dialogue, sticking with the script vs. accidental improvisation, how one of Anna's reactions originated from an unexpected problem with noisy boots, inserting moments of sympathy for Leon and cleaning Leon's image, the film's flashbacks/flash forwards, dead cows floating in the river, decorating Anna's room, artificial waterfalls, explaining the seventeen-year gap between Ferdyduke and Four Nights with Anna, Skolimowski's problems with Ferdyduke, the pursuit for artistic satisfaction, Skolimowski's career as a painter, acting as "easy money," observing KGB agents and White Nights, collaborating with Polanski on the Knife in the Water script, Skolimowski's early efforts at poetry, dialogue getting in the way of the visuals, the relationship between political tension in Poland and Skolimowski's art, and the problems of thinking about money when pursuing art.
EXCERPT FROM SHOW: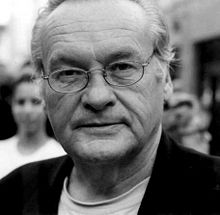 Skolimowski: For me, the most important thing is the story. I'm telling the story. And I'm not speculating on what it means more than it is. It's a story. And of course, one can always find some additional interpretation and some theoretical sightseeing into it.
Correspondent: But I'm wondering if you're perhaps being a little disingenuous here with your answer. After all, there is this chronicle with the ring. Which, of course, made me think logically of the old Jewish tale of putting the ring on the corpse and the like. And here you have it in reverse. And here Leon actually uses this as a kind of code with which to act and use his severance pay on purchasing a new particular ring. And so I'm wondering, when you think about a situation involving a ring, I mean, clearly that is a symbol. So it's not entirely just basic storytelling, I would think.
Skolimowski: But to me, it is a basic story. And I don't treat it as a symbol at all. Because logically this ring belongs into the story. He buys this ring for a specific purpose. He executes that purpose. And again, if that means something more, fine. It's the benefit of it.
Correspondent: This is where audiences come in. You essentially exculpate yourself from responsibility for symbolism and critical analysis and things like this.
Skolimowski: I rather do. Because I think, once again, I have to say the story is the most important. Everything else is just, you know, how would I describe it? It's….
Correspondent: The additional icing on the cake, I suppose.
Skolimowski: Exactly! Those are the words.
Correspondent: Okay. Fair enough. Well, let's talk about Leon's movement. I was really fascinated by it. Because he constantly circles around people. He's clumsy. He slips in the mud. And again, I was rather taken with a larger allegorical meaning of what this particular movement might mean. Because it's definitely misfit-like movement from him. And I'm wondering how this came about and how this emerged.
Skolimowski: When I was writing this story, I thought that the character should have a specific complex. That he should be extremely withdrawn and shy. And to manifest it, the best way — as you probably noticed, there's very little dialogue in the movie. So he is practically not saying anything. He's got maybe three dozen words through the whole film. But physically, he has to present that character which I wanted to create. So I thought that his walk should be kind of specific. And therefore when I choose the actor, I put some heavy stuff into his boots. I put some lead so each of his boots were like five kilograms heavy. Therefore, he had to walk like this natural.
Correspondent: That explains it. Did he slip because of this? Or was that planned? I'm sure.
Skolimowski: No, the slips were done for purpose. Because I need some light moments. You know, it's a very gloomy story, and I didn't want to have the audience be sad all the time. So I purposely planted those moments where one can laugh or at least smile, and have a little bit of relaxation from that tragedy. Because this is a tragic story. Tragic love.
(For related information about the film, here's our review of Four Nights with Anna.)
BSS #239: Jerzy Skolimowski (Download MP3)
This text will be replaced