Nelson George appeared on The Bat Segundo Show #285.
Nelson George is most recently the author of City Kid.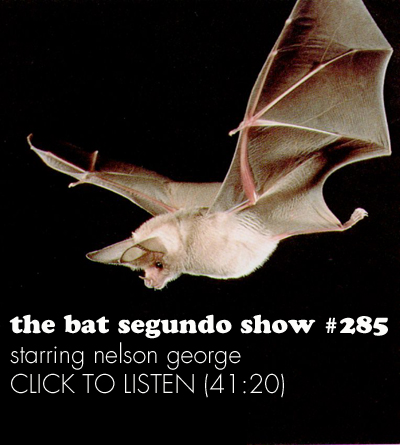 Condition of Mr. Segundo: Drowning in the inevitable tide of gentrification.
Author: Nelson George
Subjects Discussed: George's thoughts on Fort Greene, gentrification, black artists and real estate, the inevitable nature of change, finding a balance between the personal and the artistic, artistic arrogance, on not being the person at the party who wanted to do something, living a fatherless life, mentoring Chris Rock and other artists, jealousy, helping other people, the concept of ass power, inspiration vs. perspiration, making art in little rooms, the relationship between creativity and place, Babyface and L.A. Reid, Hemingway, being around artistic peers, crime and guerrilla art, loft jazz, the rigid distinctions between black music genres, world music and cross-genre fusion, undermentioned hip-hop metaphors, WBLS and Frankie Crocker, whether or not Hot 97 lives up to cross-genre fusion, Auto-Tune and narrowcasting, trying to get work from Robert Christgau, Grandmaster Flash, going to Prince's apartment to listen to Parade, junkets and ethical journalism, the crazy amounts of money that Island Records threw at Bob Marley, journalism and the sports industry, the corruption of the music industry, why sports figures weren't interesting subjects to George, Oscar Micheaux and Warren Hudlington, getting tired of critical analysis, how book-writing changed George's career, artistic evolution, and revenge.
EXCERPT FROM SHOW: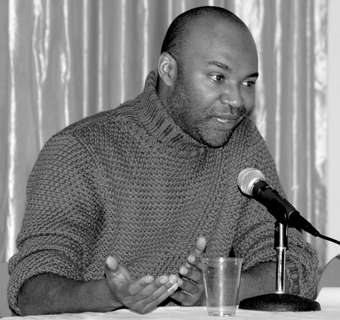 Correspondent: You write, "In my adult life, I've seen that while white institutions could be unthinking, even brutal, toward black aspirations, individual whites, either through genuine friendship or political philosophy, could be crucial allies. So while I never lost sight of racism, it became a huge part of my personal development to take whites as they came, not expecting racism or prejudice from them. And even if it was there, not to overreact, but remember it and exact revenge when I could." But isn't revenge along the lines of a kind of negative emotion? Or a negative idea like racism? I mean…
George: Revenge is…
Correspondent: Success itself is the best revenge, I would argue.
George: Depends on what they did to you. It depends on what they did to you.
Correspondent: Well, what did they do to you exactly?
George: People can get you fired from jobs. People can try and sully your name. People can try and hurt people you love. And so sometimes if you can get them, you will.
Correspondent: Yeah, but…
George: It's just very basic.
Correspondent: But how much have…
George: It depends on what it is.
Correspondent: How much have you dwelt on this notion of vengeance? Is vengeance good?
George: Not very much.
Correspondent: Not really.
George: Not very much. I mean, vengeance is not a very useful emotion most of the time. But selective getting back at people is always very refreshing.
Correspondent: When was the last time you got back at someone?
George: About a year ago.
Correspondent: And what provoked that particular impulse? You just were feeling…
George: No, no, no. It's not so much a thing. It's just…revenge is actually very useful. It's acts of commission. It's acts of omission, not commission.
Correspondent: Yeah.
George: That is, there are things that happen. Opportunities that arise. That you know someone who it might be really good for. Or it could help them. And you don't help them. You don't tell them about it.
Correspondent: Yeah. So it's really exclusion. That's your form of revenge.
George: I would say that it's the easiest one to apply. Because it involves no action.
Correspondent: Yeah. It involves very little in the true destroying of someone's career.
George: Right, right.
Correspondent: It's just a step back. It's a therefore healthy vengeance.
George: Yeah, because it's too — oh, I don't have time to be conniving. That's crazy.
Correspondent: (laughs)
George: I've got to actually — you know, because I'm not that. And it puts it. You know, to be that. I know people who really do think that way. And it takes a lot of their time. Like, well when are you going to do something for yourself?
Correspondent: Yeah.
George: But if you feel like you've been wronged by someone, and you're in a position to help them and you don't, then you've got that out of your system and you can move on.
BSS #285: Nelson George (Download MP3)
This text will be replaced