NORTH POLE (AP): Santa Claus, who has operated his toy factory for many centuries, announced this morning at a press conference that he would be shifting his operations to the Bahamas in light of the Arctic's rapidly melting icecap, which has melted down to an island for the first time in human history. Mr. Claus plans to continue his important work in the Bahamas for now. But he informed reporters that he was considering a move to the mainland if sea levels started to rise.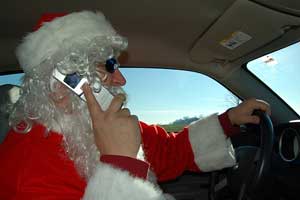 "I've been in this business for many years," said Mr. Claus, "and I thought my little patch of ice would sit here forever. But Christmas is too important to start taking chances. We need terra firma, not melting ice. On the bright side, Mrs. Claus and I will get some fantastic suntans."
Mr. Claus's team of eight reindeer are being trained to adjust to the rising temperatures, but at least one reindeer is experiencing some difficulty in adjusting to the heat. Blitzen has reportedly developed a heat stroke after being exposed to the sunny weather. Mr. Claus is now actively seeking a second-string reindeer, should Blitzen be taken out of commission. But Mr. Claus remained positive.
"They were dubious about Rudolph when he first started out," said Mr. Claus. "Fortunately, we've been consulting with a few people. One of these consultants has suggested reindeer steroids, which appalled me. But we're trying to keep things as pure as we can."
Because of the considerable time it will take Mr. Claus to transfer his operations, this year's Christmas shipping will be postponed from December 25 to January 8. Mr. Claus apologized to many parents for the delay and to many religious groups for the lack of coordination with their rituals and festivities.
"As you can imagine," said Mr. Claus, "a global operation of this size can't be transferred overnight. And, really, since I've been doing this for free for so many years, I hope that we can all work together during this difficult adjustment period."
The delay was spawned by Mr. Claus seeking the assistance of the World Bank Group to help him with the costs of relocating. But World Bank insisted on having Mr. Claus sign a promissory note if he hoped to get the aid he needed. Both the International Red Cross and Amnesty International are now attempting to earmark funds so that Christmas can run on schedule.