Laila Lalami recently appeared on The Bat Segundo Show #291.
Laila Lalami is most recently the author of Secret Son. She previously appeared on The Bat Segundo Show #11.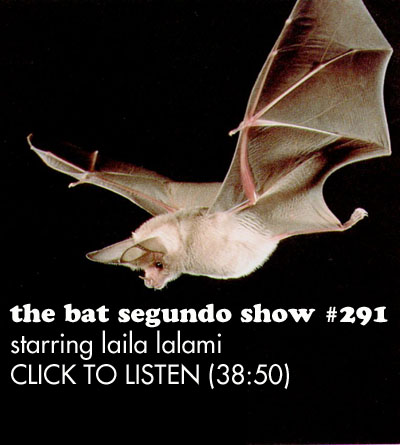 Condition of Mr. Segundo: Unpersuaded by fictive convictions.
Author: Laila Lalami
Subjects Discussed: Interviewing enthusiasm, similarities between Secret Son and Richard Wright's Native Son, Invisible Man, the original title of The Outsider, Ayelet Waldman's similar title, the maximum number of story and title configurations, the Brooklyn titular fiasco, depicting scenes from multiple perspectives, character restrictions, masculinity and swagger, fiction and personal experience, blogging and silly distinctions, not having time to pay attention to the publishing industry, violence and representative characters from the slums, subverting terrorist expectations in fiction, brown falcons with twigs in their beaks, symbolism vs. emotional and psychological signs, not having a sense of home, censorship in Morocco, the Western Sahara Separatist Movement, TelQuel, questionable freelancing circumstances portrayed in Secret Son, questioning acts of generosity in the novel, inconsistent character qualities and financial transactions, Chekhov's gun, personal experiences with paperweights, the problems with making things up, Nadeem Aslam's Maps for Lost Lovers, being more comfortable with the least strange aspect of invention, government bailouts, legalized pot, and truth vs. believability.
EXCERPT FROM SHOW: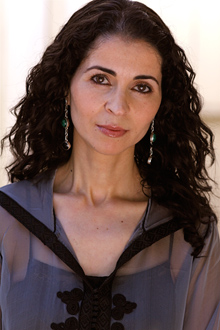 Correspondent: Do you view Youssef stealing the paperweight as a financial transaction?
Lalami: Do you know, to this day, I have no idea why he does that?
Correspondent: Really?
Lalami: Yeah, I was just in the middle of the scene. And before I knew it, he was walking down the elevator with it. And it just…I don't know.
Correspondent: I kept thinking it was like Biff from Death of a Salesman or something.
Lalami: Oh my god. (laughs)
Correspondent: But instead of the fountain pen, it was a paperweight. I don't know.
Lalami: Very clever. No, no. I wasn't thinking of that. You know, to this day, I don't know why he does that. I mean, I think — I don't know. And the fact that it turns up later on in the book, that again. I mean, literally, two lines before it happened, I didn't know it was going to be on that desk.
Correspondent: Maybe you needed Chekhov's gun.
Lalami: (laughs)
Correspondent: Maybe that's what this is all about.
Lalami: Yes, maybe.
Correspondent: I mean, intuitively, when you introduce a character or an element or an object along these lines, to what degree is your subconscious saying, "Hey, I've got to go ahead and put things in here that I can follow up later, and resolve, and wrap things up."
Lalami: Honestly, yes. Honestly, it really did happen at the level of the subconscious. And I couldn't tell you why he steals it. Or why? I mean, it seemed fitting to me that the friend would convince him to sell it. I mean, that was just something that fit with the character. But why it would then turn up on Hateem's desk, I don't know. You know, honestly, it just seemed to be intuitive. I was just following my intuition with that. Maybe there is a larger symbolic subconscious meaning to it.
Correspondent: Or maybe you had a really painful, cathartic, and emotional experience with a paperweight.
Lalami: No.
Correspondent: That you're just not going to share.
Lalami: (laughs) Then the story would be a lot more interesting.
BSS #291: Laila Lalami (Download MP3)
This text will be replaced