This is the second in a series of dispatches pertaining to this year's BAMcinemaFest, which runs from June 16th through June 26th.
I should probably confess from the onset that I'm a sucker for movies that depict show business. Mathieu Amalric's On Tour, which concerns effervescent burlesque dancers as they play various gigs in France, is somewhat overstuffed (especially when compared against Abel Ferrara's smooth and sleazy Go Go Tales). But it's still a delightful diversion, greatly aided by Amalric's energetic (and sometimes over-the-top, as seen during one moment on a train) performance as Joachim, a disgraced television producer turned low-rent showbiz manager.
Joachim may or may not be capable of dignity or redemption. But that's a moot point. Because On Tour is at its best when depicting backstage process: the application and removal of pasties accompanied by bubbly banter, rehearsal sessions featuring women wiggling out of coiled rope, and attempts to woo the dancers back to their hotel rooms with bottles of champagne. (Joachim's insistence that champagne will do the trick more than other methods says much about his management techniques and his understanding of women.) It is not quite on firm footing when investigating what Joachim has given up: the former lover occupying a hospital, his status as prodigal son and brother who has fallen from grace, and Joachim simultaneously looking after his children and the dancers. There is one absurd moment when Joachim asks his kid to hold the phone to his ear as he slobbers down Kentucky Fried Chicken. Amalric might have pursued this decided incompatibility between personal business and show business further.
But his camera is understandably drawn to the dancers, who include the balloon-popping Dirty Martini, the piano-playing Kitten on the Keys, and the alluring and curvaceous Mimi Le Meaux. Filmed burlesque, of course, can't compare to the real thing. (With this in mind, the good folks at BAM have wisely planned a burlesque show to accompany this film's June 24th spotlight screening.) And aspirations don't necessarily translate into captivating talent. There's one sad moment in Amalric's film which illustrates this latter harrowing point: a woman working the grocery checkout counter, having seen the burlesque show the night before, lights up when seeing Joachim and one of his dancers purchase some goods. The woman attempts a sloppy and impromptu tease and, when denied, she shrieks at Joachim for being spurned as he leaves the store. It's a sober reminder that all art, even the seemingly low strains, requires fluency and commitment overshadowing such envious fast track aspirations. The rest of us who understand this can enjoy the dancing.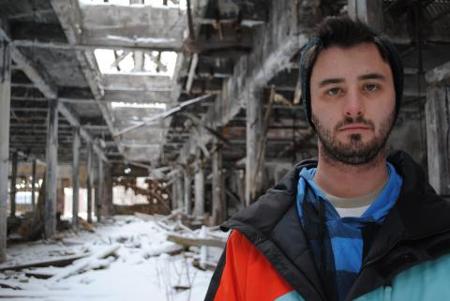 "I don't like hippie films where you watch a balloon for an hour and a half," says one of the soldiers in Heather Courtney's moving Where Soldiers Come From. It's a message that may be lost on the film nerd set. This gripping documentary tracks three young men (Dominic Fredianelli, Cole Smith, and Matt "Bodi" Beaudoin) in the Michigan Upper Peninsula fresh out of high school who sign up for the National Guard, serve stints in Afghanistan, and return home permanently altered. Myopic film snobs clinging to desperate cinematic references like stray driftwood clogging up a human river will probably make comparisons to The Deer Hunter. Thankfully, this is an association that Courtney deals with fairly early on.
Courtney is after the bigger and little discussed picture of how sharp young people, attracted by the money and a desire to serve their country, don't entirely comprehend the consequences until they're in too deep.
It's good to see a serious movie like this get programmed in with all the nauseating and forgettable offerings made by talentless hipsters. Courtney has not only skillfully earned the trust of all parties, but her coverage is comprehensive (even following them to Afghanistan) and her editing is highly organized. We see the training officer who can't pronounce "Hamid Karzai," bombarding his trainees with a decidedly reductionist overview of the country. Parents smoke sad cigarettes and work long hours. Girlfriends clutch teddy bears and patiently prepare for the shifts in mood and the traumatic brain injury when their men return. There are technical snafus when families try to connect with the soldiers through Skype. Dominic, before he is shipped overseas, is a talented artist. And right before he's sent to Afghanistan, Courtney strings together a series of visuals where Dominic and his friends tag the interior of a decaying edifice with maps of the country, maps of Michigan, and other depictions of their lives. This ephemeral art wryly (and painfully) mimics how top brass perceives their services as soldiers. When he returns home and he's flailing around to find a place, it's a genuinely touching moment when his art teacher gives him a wall to paint a mural.
This film works so well because these young men aren't mindless automatons. They're aware of what happens when they single out a landowner to be searched ("I affected that guy's life for the rest of this life. But the IED wont explode. So it goes both ways."). They want to believe in the Afghan population, but the hard and thankless slog has caused these men to "learn to hate" them. They're also aware of how disposable they are. As one soldier confesses, "Pretty much you're nothing. Unless you rule a corporation, you're pretty much shit."
Where Soldiers Came From is a vivid cinematic portrait well worth your time and long overdue for distribution beyond the film festival circuit.