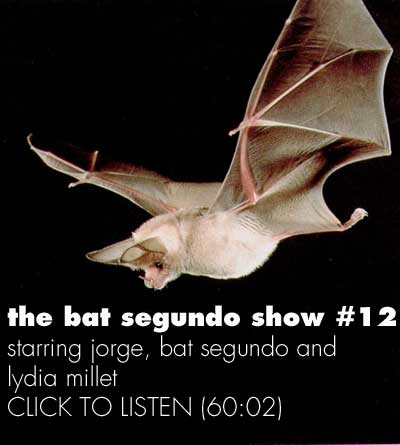 Author: Lydia Millet
Condition of Mr. Segundo: Repentant, perpelxed and adjusting to a sudden change.
Subjects Discussed: Beer at 11:30 AM, Richard Rhodes, Wold Newton, American Prometheus, getting biographical details wrong, the influence of fiction vs. nonfiction, the displacement of major historical figures, narrative juggling acts, freakishness in literature, Lynda Barry, obstacles in being a woman writing dark humor, the gender divide in the publishing industry, outlining novels, finding humor in Hiroshima, humorless book reviewers, lip service in government, ignorance, literature which reassures, fiction that reaches a mass audience, Richard Nash as publisher, the I Am Charlotte Simmons paperback, Richard Nash as editor, how characters are named, meterologists, cigarettes, Lydia Millet's father, the various pronunciations of "missile," Leo Szilard, Eminem, blindness, compassionate satire, John P. Marquand, Kirby Gann's Our Napoleon in Rags, Ignatius Reilly, porn culture, working at Hustler, Jonathan Ames, imaginary figures in literature, on whether Dave Eggers deserves to be punched, A Heartbreaking Work of Staggering Genius, substance in fiction, authenticity, the endless McSweeney's lists, irony and cynicism.
© 2005, Edward Champion. All rights reserved.